Swansea chairman Huw Jenkins urges police and FA to drop Eden Hazard investigation
Swansea chairman Huw Jenkins says it is "remarkable" that police are investigating Eden Hazard's kick on a ball-boy.
Last Updated: 25/01/13 5:14pm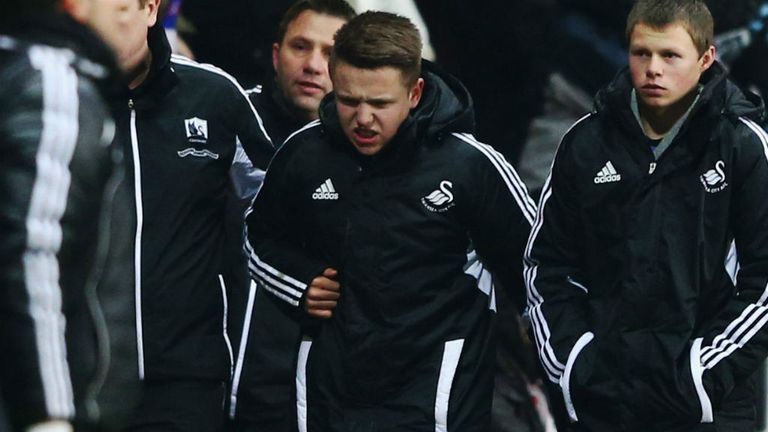 Neither Charlie Morgan nor the club made any complaint over the incident, but three members of the public asked South Wales police to get involved.
The Football Association has charged Hazard with violent conduct on top of his sending-off, but Jenkins does not want the Belgian to face further punishment.
He told Sky Sports News: "On a personal note I find it remarkable that there is any thought of police action.
"I want everything to get back to normal as quickly as we can, move on and look forward to our next game against Sunderland.
"Things are done in heat of the moment and probably everybody looks back and wishes things had been done differently. We accept how things are and all move forward."
Speaking before the FA charged Hazard, Jenkins said he hoped the case would be dropped.
"That would be my personal feeling," he said. "But I can't control what others are going to do. Speaking on behalf of the club, it's something we'd quickly like to forget."
The ball-boy's time-wasting tactics have brought criticism from the likes of Harry Redknapp and Arsene Wenger, but Jenkins has rubbished suggestions from elsewhere that Morgan was acting on instructions to slow the game down.
He said: "I've never had discussions with ball-boys and I don't know who does."
QPR manager Redknapp earlier said he sympathises with Hazard and holds Morgan responsible for the incident.
"Hazard toe-poked the ball under the boy's body. Why is the kid lying on the ball in the first place?" he said.
"You can imagine the frustration - you're a player trying to reach a cup final but there's this kid behaving like an idiot who won't give you the ball back.
"Hazard didn't kick the kid, he kicked the ball underneath him, but the whole thing got blown out of all proportion.
"I can think of a lot of players who would have kicked a bit harder than he did. He just toe-poked the ball away.
"The boy was tweeting before the game that he's a super time waster. The way he behaved was disgusting."