Rafa Benitez drops strongest hint yet that he wants to stay Chelsea manager
Rafa Benitez has dropped his biggest hint yet that he would like to take the Chelsea job on a permanent basis.
Last Updated: 27/01/13 11:18am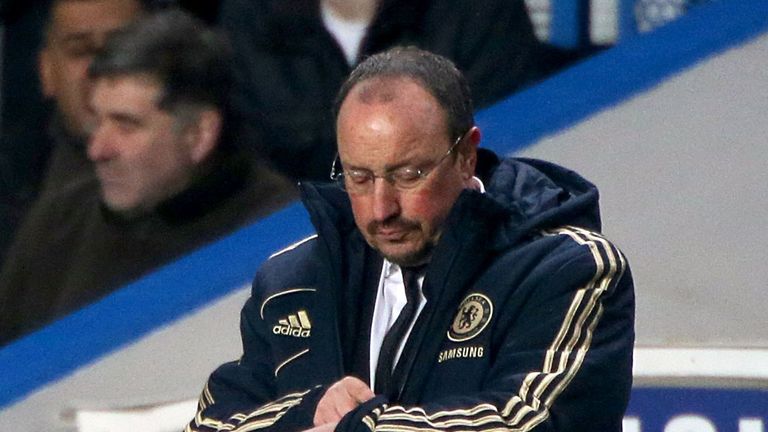 The Spaniard's appointment until the end of the season was deeply unpopular with large sections of the club's fans, with the mood not helped by their exit from the Capital One Cup at the hands of Swansea in midweek.
But Benitez remains keen to make his mark at Stamford Bridge and insisted they are moving in the right direction.
"If you analyse all the managers, how many had pre-season here? Not me. How many managers have spent massive money here? Not me," he said.
"How many managers have played in Japan in the middle of the season with some players injured and they had players in the Africa Cup of Nations? It is just me.
"My conclusion is the reality is that if you put everything together and you will see why we are happy in the way we are doing things and the way the team is progressing."
Asked if he would like to stay on beyond the end of his current short-term deal, Benitez added: "I like to be at a top side and Chelsea is a top side with great potential. So I think it's a great opportunity."
Benitez also played down his suggestion that Chelsea are out of the title race, with the Blues having now closed to within 11 points of Premier League leaders Manchester United.
"If you play two or three games in a row and you can win in the Premier League, what will happen? You never know," he said.
"I think this team has enough quality and the squad is a good squad. The circumstances this year were more difficult.
"If this club - which is a top, top side - continue doing things in the right way, they will always be challenging for trophies."
To find out more about live football on Sky sports, Click here