Chelsea's Frank Lampard admits England caps will not impact next club move
Frank Lampard insists the next move of his club career will not be dictated by a desire to reach 100 caps for England.
By Rob Parrish - Follow me on Twitter @skysportsrobp
Last Updated: 07/02/13 11:59am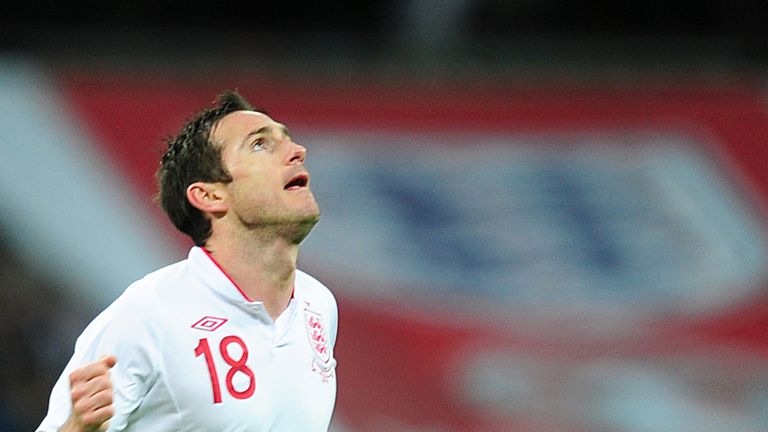 The Stamford Bridge veteran stepped off the bench to score a stunning winner for his country in Wednesday's friendly international against Brazil at Wembley, a match which saw team-mate Ashley Cole become the seventh centurion for the Three Lions.
Lampard's current contract with the Premier League club expires in the summer and he is expected to be on the move after 12 years in West London, with no discussions on a new deal planned.
The 34-year-old has reached 94 caps for his country, but the emergence of Jack Wilshere and Tom Cleverley and the enduring quality of Steven Gerrard means he is no longer a guaranteed starter.
Lampard is simply happy to be part of Roy Hodgson's international set-up and remains keen to contribute whenever called upon, but will not become distracted by the prospect of joining Cole in reaching the landmark of three figures.
When asked if the prospect of reaching 100 caps gives him an added incentive to resolve his club future, he told Sky Sports News: "No, because I won't retire.
"Wherever I go, whatever happens in my career - and I don't honestly know - if I can play at a great level of football and play at my best I will just see what happens.
"If I don't get to 100 caps, I have given everything in every game I have played.
"When you get older, you realise even more what it is to play for your country; that it won't go on for ever.
"Every time I am in and around the squad, I will give my all, whether it is starting or on the bench. I have got a lot of respect for the manager and I think he respects that I want to help in any way that I can."
Excellent
Lampard may be surplus to requirements at Chelsea, but Hodgson wants the 34-year-old to inspire his team all the way to the World Cup next year.
The midfielder has been linked with a possible move to America in the summer when his Chelsea contract runs out, but Hodgson believes that would be a mistake for a player who is now just six caps away from 100 for his country.
Hodgson said: "He was excellent. I think he can (reach 100 caps). I hope we'll keep Frank in England.
"It's not for me to discuss his future with his current club. I know he'll have a lot of offers if Chelsea do decide they're prepared to let him go.
"I'm rather hoping we'll still see him, if not in England then Europe which will make my task easier. If he goes further afield and follows David (Beckham to the MLS), it complicates matters but it doesn't mean your career is over with England.
"But the further afield you go, the more problematic it gets for the media and the England manager to follow you."
To find out more about live football on Sky Sports, click here.