Frank Lampard wants to play in 2014 World Cup at age of 36
Frank Lampard has targeted a place in the England squad for next year's World Cup in Brazil.
Last Updated: 08/02/13 7:28am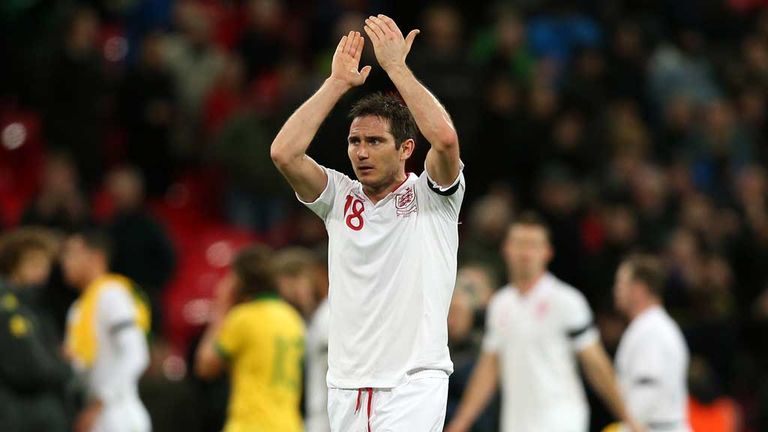 The Chelsea midfielder proved he can still cut it at international level with the winning goal in Wednesday's friendly win over Brazil, his 27th goal for his country.
Lampard's contract with the Blues expires this summer and although they initially said they would not offer him a new deal, their stance has reportedly changed.
Whether he stays at Stamford Bridge or not, Lampard is aiming to give himself the best opportunity to be part of the England squad that go to Brazil, should they qualify.
"Maybe the World Cup is within reach but I'm certainly not getting carried away," he said.
"I know how football is and from squad to squad it can change, and when you get to the age of 34, 35 this summer, people do look upon things differently and fair enough.
"I'm very understanding of where I'm at in my career.
"But if I can continue playing for Chelsea and continue contributing here, whether it's starting or as a valuable squad member, and when I do my bit, then the World Cup is getting a bit nearer.
"It's certainly a target for me and, yes, I will try to keep playing at a good enough level to get there. It's a target.
"I won't retire from England before that, put it that way."
When asked if he will seek Hodgson's advice on what to do next in his career, Lampard said: "Maybe but first and foremost I'll seek my own advice, make my own decisions if that makes sense.
"But I'm very competitive and I've got a sniff of the World Cup. It's only a sniff because it's a year away and England aren't even there so I shouldn't get carried away.
"But I'll keep performing to my best and whatever decisions I take, I'll take with a view across the board to make myself happy, to try and play the best football I can."
Lampard admits England can now have cause for greater optimism thanks to the form of the fit again Jack Wilshere and the pace now in the side, as demonstrated against the Brazilians.
He said: "I know Jack is going to be a top player. Only a terrible injury halted him and he has come back and filled straight in.
"I don't want to heap silly pressure on him because he is very young and we shouldn't do that.
"But the way he is performing now, it's up to him how far he wants to go because he is going to be a massive, massive player for England, that's for sure."