Boudewijn Zenden no regrets about joining Chelsea staff despite fans' fury
Boudewijn Zenden insists he has no regrets about taking a coaching role at Chelsea.
Last Updated: 21/02/13 1:02pm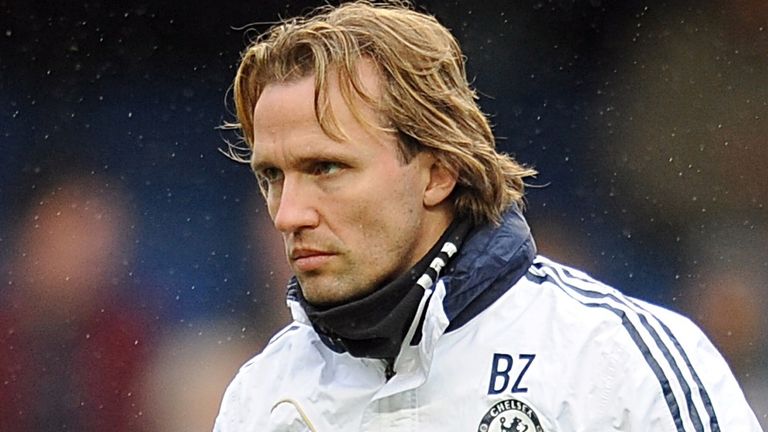 Zenden agreed to become Rafa Benitez's assistant manager in the wake of the sacking of Roberto Di Matteo in November.
It is the former Netherlands, Barcelona and Liverpool midfielder's first coaching role and although it has so far proved a turbulent post, with patchy form being compounded by discontent from fans towards Benitez, Zenden is relishing life at Stamford Bridge.
He told the London Evening Standard: "For me it's a great opportunity to be at a club like Chelsea, to be asked to do this job.
"I'm very much enjoying it. The situation that occurred has not always been easy, but we know that when the results are there and you do well, everything will be changing for the better and be OK.
"The good thing for me is that I get a chance to literally be involved in everything - when we do the game analysis, preparing for matches with the video analysis, training sessions - so I'm in every side of it and it suits me well.
"It is my first steps in a coaching role and I'm looking forward to what the future holds for me. It could be anything, but as it stands I have signed my contract with Chelsea until the end of the season and we'll take it from there."
Benitez has felt the wrath of Chelsea's fans since taking over from Di Matteo on a caretaker basis until the end of the season.
Although they are third in the Premier League, five points ahead of fifth-placed Arsenal, they trail league leaders Manchester United and have little chance of winning the title.
Zenden admitted the team's achievements under Benitez have been overshadowed by the negatives.
He said: "If we do four, five, six good things and one bad, it seems that the one thing that is bad is measured in a much bigger scale than the five or six things that happened before that."
Zenden added: "For the managing department, it is just a matter of getting on with the work and making sure you get the results.
"I'm sure it is just a minor group that thinks differently. It's not always been negative. The fans in general are very good. In general they support the team, the players and the manager. There is always a minority that you still need to try and convince."