Chelsea boss Rafa Benitez defends Fernando Torres after blank showing in Europa League
Chelsea boss Rafa Benitez defended Fernando Torres after he fired more blanks in their Europa League progression.
Last Updated: 22/02/13 10:47am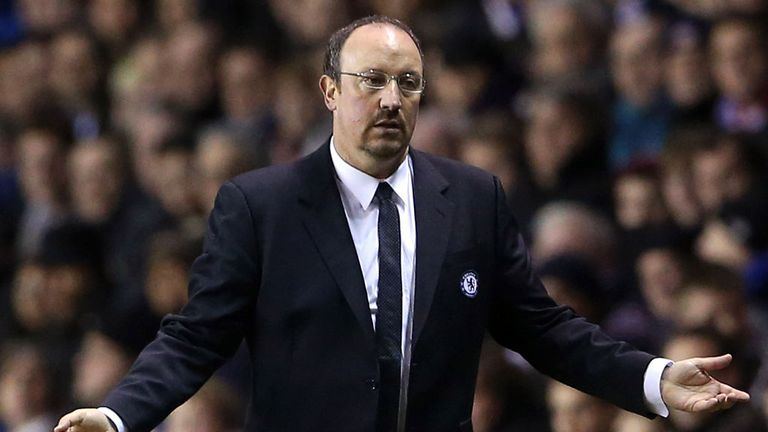 Substitute Eden Hazard saved the Blues from extra-time with a last-gasp strike to snatch a 1-1 draw at Stamford Bridge that was enough to overcome Sparta Prague's persistence over the two legs.
The Spaniard has been under-fire for most of the season and continued to struggle in front of goal, wasting four clear-cut chances on a night Chelsea dominated possession without displaying a convincing cutting edge.
Most glaringly Torres was off-target twice in the opening 15 minutes, when a more confident striker may have helped ensure the ensuing night of nerves were averted.
"He didn't play badly tonight," Benitez said about his forward who has scored once in his past 14 games - against League One Brentford.
"You can analyse a striker for the number of goals he scores. Maybe you're right. But he did a great job for the team tonight. It's not easy against a team playing deep, but he was winning the ball in the air, bringing options for those around him.
"I thought he was playing well. I disagree he was playing badly. But of course we want him to take the chances that come his way.
"If he continues working like today and playing like he did today, he will score goals. I'm convinced about that. We could be talking about Fernando not scoring goals, and he had four chances. But he had four chances.
"Let's turn it into a positive. I've seen him in games not having these chances because he's not in the right position. Today the goalkeeper stopped him and he missed some. It wasn't the situation where the striker disappeared.
"Are we disappointed he didn't score? Yes, we are. But he was still giving his all to the team."
In the end it was Hazard's craft that broke down the hard-working Czechs with the final kick and book a last-16 tie with Steaua Bucharest.
The Belgian, who replaced Oscar after 67 minutes, dropped his shoulder to beat a defender before blasting a drive that the impressive Tomas Vaclik was unable to keep out.
"Hazard has quality and ability and we knew he could make the difference in the end," added Benitez. "It was not easy to pick anyone to come off. We decided Oscar because Victor Moses could give us width on the right and Hazard on the left.
"They were playing deep, so we wanted to stretch them. But we did well. We had 22 attempts and clear chances. We didn't score until the end, but we had 60% of the possession and did well.
"We made two or three mistakes and gave them opportunities to counter, but we still did enough to deserve to go through."