Chelsea boss Rafael Benitez will make changes for Manchester City game
Rafael Benitez will make a number of changes for Sunday's Premier League clash against champions Manchester City.
Last Updated: 22/02/13 3:24pm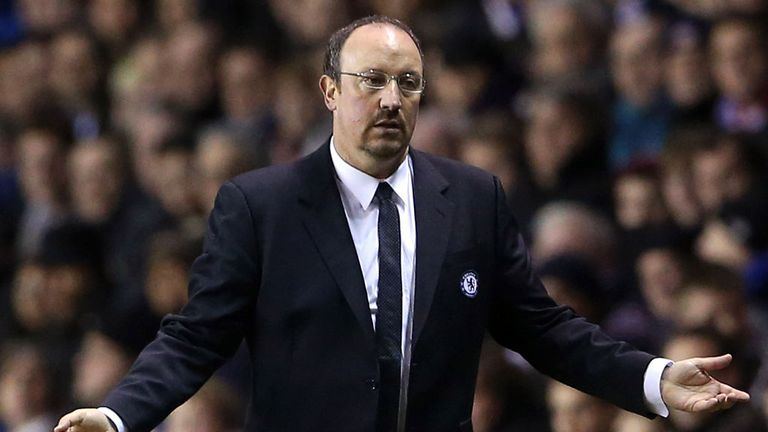 The Blues are in the midst of a heavy run of fixtures and travel north to the Etihad Stadium just three days after edging through to the last 16 of the Europa League thanks to a last-gasp goal by Eden Hazard at Stamford Bridge.
Frank Lampard and cup-tied Demba Ba did not face Sparta Prague on Thursday while Ashley Cole remained on the bench and all three are expected to start this weekend.
And Benitez said: "We have played around nine games a month, so we have played more games than anyone in Europe.
"But we knew that before the game (against Sparta) so I rested some players so hopefully the players we use will be fine and we can keep the energy.
"When you play two games a week in two different competitions and you rest a few players and you win they will say 'Fantastic rotation' but if you lose they say 'Why are you resting these players'.
"We will change some of them against City, that is very clear because we have to do it and that is the way if you are a top side.
"Because the club is successful that is part of the price you have to pay and we are really pleased to be paying this price."
The Blues travel north in search of three points that would move them to within one of second place Manchester City.
Benitez believes Sunday's meeting can be a guide to his side's targets for the season, with the Chelsea boss confident his players have enough to claim all three points and set their sights on finishing in the top two.
"We have a lot of respect because City is a great team," Benitez said. "But we have to go there with confidence and if we are close I think that we can fight for being in the top two, and if not we have to fight for being in the top four.
"The priority is to win; if we win this game we will be closer but if we cannot we have to keep fighting.
"What I can see now is a team with confidence, we are confident we can beat City or anyone if we do things in the right way.
"We are creating chances in every game so I'm confident we can do it."
With Arsenal, Everton and Tottenham also having designs on qualifying for the Champions League next season, the race for the top four is likely to be a long one and Benitez admits he envisages the battle going right down to the wire.
"The race for the top four will go on until the end of the season," he said.
"Our last game is against Everton so I'm sure that, until the end of the season, we will be winning games or losing games or whatever but it will be very tight, very close.
"I think that one game can make a big difference so until the end it will be difficult for everyone."