Chelsea boss Rafa Benitez to face press after fan criticism
Rafa Benitez will face the press on Friday after claiming he remains on "really good" terms with Roman Abramovich.
Last Updated: 01/03/13 2:02pm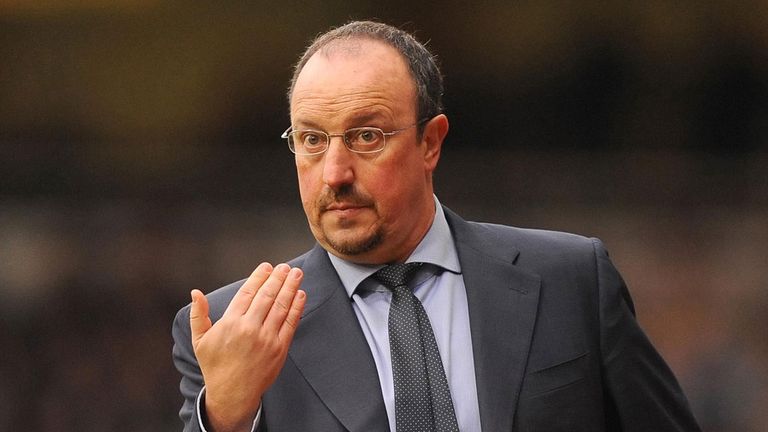 The Spaniard's position at Chelsea has been widely called into question in the wake of his criticism of the club's more hostile supporters and the hierarchy on Wednesday.
Benitez was particularly scathing of Chelsea's decision to include the word "interim" in his job title when he succeeded Roberto Di Matteo in November.
And his outburst led former Blues manager John Hollins to speculate whether he would still be in a job come the end of the week.
But hours after a spokesman said it was "business as usual" at the club's Cobham training base on Thursday, it was confirmed Benitez will hold his weekly press conference ahead of Saturday's game against West Brom.
In an interview with the BBC, Benitez insisted there had been no fall-out with owner Abramovich and said he would not follow Di Matteo through the exit door before the end of the season.
He said: "My relationship with the owner is really good. Every time I talk to Abramovich about football, I enjoy it.
"I know that he wants to win. I'm here because he wants to win and I will try to do my best until the last day. The relationship is fine. I don't have any problem with anyone.
"I have conversations with Michael Emenalo, the technical director, every single day. He watches the training sessions, we talk about football and when I meet Roman Abramovich, we talk about football."
Asked if he thought he would be sacked before the summer he said: "No. They know how we work and what we are trying to do."
The former Liverpool boss confirmed after Wednesday's FA Cup win at Middlesbrough he would not be at Stamford Bridge next season and accused some supporters of harming his attempts to achieve UEFA Champions League qualification.
His outburst sparked speculation that his position was in immediate danger and a lot of his Premier League counterparts have sympathy for the position Benitez finds himself in.
Newcastle boss Alan Pardew feels the 'interim' title did not help anybody concerned.
"The title probably didn't do him any favours," Pardew said. "It probably didn't help Chelsea, and perhaps even upstairs, they might regret that title, if you want to call it that.
"He's a great manager; they are a great club. They will sort it out."
Reading boss Brian McDermott understands Benitez's frustration at being given the 'interim' title, having experienced a similar situation himself.
He said: "That is the title that the job was given. When I got the job here in the first place I was caretaker manager. It was called caretaker then until I got the job as the manager. That is kind of how it is.
"The title was 'interim manager' and I understand that that title doesn't look to be a permanent title, I would suggest, so I can see from Rafa's point of view that wouldn't be the title he would have wanted."