Guus Hiddink refuses to rule out returning to Chelsea as manager
Guus Hiddink has refused to rule out the possibility of returning to Chelsea in the summer.
Last Updated: 02/03/13 5:00pm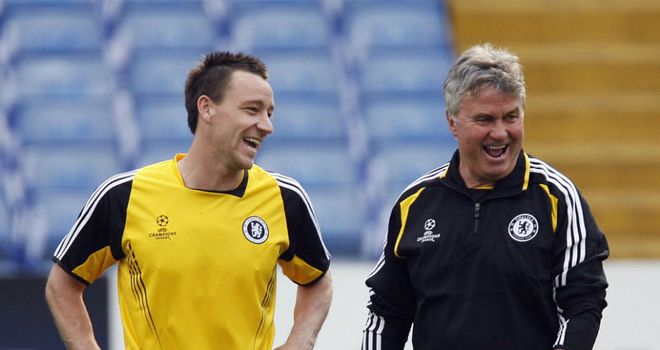 The 66-year-old Dutchman, who currently manages Anzhi Makhachkala in Russia, had previously he hinted might be about to retire, but has now revealed his interest in taking on a new challenge.
Hiddink enjoyed a successful three months as caretaker boss at Stamford Bridge in 2009 and with the manager's job set to become available again in the summer, the former PSV Eindhoven and Russia boss is a potential candidate to take over.
And having already developed a strong relationship with Chelsea's players, Hiddink left the door open for a return.
He said: "I enjoyed my time there very much. I was there almost half a year and in 27 or 30 games, we lost only to Tottenham Hotspur and in the rest achieved good results. On top of that, I really enjoyed working with the group of players.
"They have gone through a lot of changes. I'm the only man who wasn't sacked.
"I said to Dutch television that I might stop at the end of the season, but we have other options to go on with [Anzhi].
"And regarding other clubs, I'm 66 now and will be 67 in autumn. As long as I feel energetic and I'm not becoming an old, bitter, sour man, then I can go on. But I cannot predict where I am next season."
One of the players Hiddink bonded with during his stint at Chelsea was Frank Lampard, who appears set to leave the club when his contract expires at the end of the campaign.
The Dutchman is unwilling to criticise Chelsea for not offering Lampard a new deal, but is adamant the 34-year-old could continue be a key player.
"That's up to the club, but most clubs have someone who protects the culture of the club and, at Chelsea, Frank is one of those guys," Hiddink said.
"And although Frank is 34, he's still fit, still treats himself well. When I asked him once in training to stay off the pitch today and not play tomorrow because he was injured, he said 'No, boss, please, please, please'. So he's eager and looks after himself very well."