Chelsea keeper Petr Cech keen to see Jose Mourinho return to Stamford Bridge
Chelsea goalkeeper Petr Cech has welcomed the idea of Jose Mourinho returning to the club as manager.
Last Updated: 04/03/13 12:47pm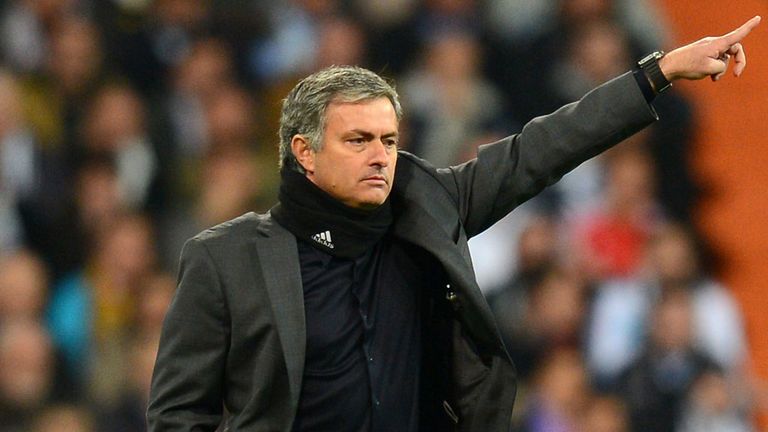 Benitez remains unloved by Chelsea fans and the prospect of the return of Mourinho to a club where he enjoyed success has again been mooted.
The current Real Madrid boss won two Premier League titles, the FA Cup and two League Cups during his three-year spell in west London.
Chelsea supporters chanted Mourinho's name during Saturday's 1-0 win over West Brom at Stamford Bridge and Cech understands why they would want him back at the helm.
"We had fantastic success with him, so why not? He is a fantastic manager," Cech said in the Daily Star when asked about the prospect of 'The Special One' returning to the club.
"Of course the fans sing his name. Jose Mourinho did a fantastic job for the club and people loved him, so he rightly deserved that.
"This is the way it should be, the fans should pay their respect for the players and ex-players who come here to the Bridge."
Cech has also defended Chelsea players' right to speak out over key issues, with the Czech Republic international insisting it has not affected the fortunes of the club.
"We have had a lot of success thanks to the honesty and open mind everyone has in the dressing room," he added.
"Everyone should have a chance to express an opinion and if the players are not happy it's never been a case of saying, 'unlucky mate, you just pick yourself up and we will carry on'.
"If someone is not happy we try to find solutions. When we see something is going wrong, people have the right to express themselves and say what they think needs to be improved.
"But, obviously, we have only one boss and that's the manager. So it is up to him if he wants to listen to what the players say or find his own way to go."
Cech was also keen to defend Chelsea's record in sacking managers, with Benitez the 10th person to occupy the hotseat during Roman Abramovich's time as owner.
"In the last nine years we have won more or less the same number of trophies as Manchester United," said Cech. "They have had one manager in that time - we have had eight.
"Arsenal have had the same manager and they haven't won anything for a long time.
"Maybe if you asked them they might say they would rather have had 10 managers and six trophies, I don't know. We do it our way, other clubs do it their way.
"It seems to have worked for us so far, so long may it continue."