Petr Cech urges Chelsea to focus on Manchester United after Europa defeat
Petr Cech has urged Chelsea to forget their Europa League defeat and focus on facing Manchester United in the FA Cup.
Last Updated: 10/03/13 3:40pm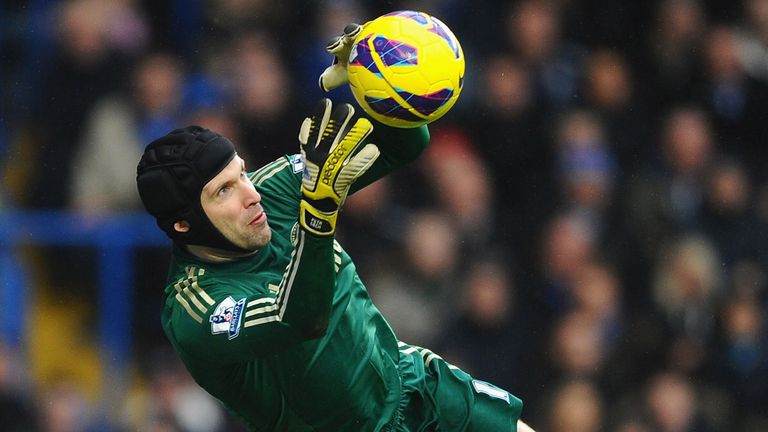 Chelsea have work to do if they are going to reach the Europa League quarter-finals after suffering a disappointing 1-0 defeat against Steaua Bucharest in Romania.
But goalkeeper Cech insists his team-mates cannot afford to dwell on this display as the cup holders face a stern test against United in their quarter-final clash at Old Trafford this weekend.
"It's the best way to forget about this defeat," he told Chelsea TV.
"The games are coming thick and fast. We won't have much time to prepare, but we'll get a little bit of rest and hopefully we'll have a good performance on Sunday.
"They are the favourites for the game, but it's the FA Cup and in the FA Cup not every time do the favourites win.
"We're still the holders, so we'll try to keep our trophy as long as we can."
Defender Branislav Ivanovic is wary of a backlash from United who will be keen to get their season back on track after the disappointing UEFA Champions League defeat by Real Madrid in midweek.
"It is going to be one of our biggest challenges of the season, especially playing them at this moment," he said.
"When you go out of the biggest competition in that way, it must be disappointing but they will be more motivated because of that."
Realistic
United's sizeable lead over the rest of the Premier League - they are 12 points clear of second-placed Manchester City - and Chelsea in particular is indicative of a poor season at Stamford Bridge, Ivanovic says.
The Serbian said: "We have to be realistic with our situation and be honest. The gap means we didn't do well in the season."
Chelsea began the season in contention for seven trophies - the Europa League has since replaced the Champions League - but unless Benitez's side beat United or overturn the deficit against Steaua, their hopes for silverware will be over for this season.
A trophy would be an unexpected bonus, with qualification for the 2013/14 Champions League the over-riding concern.
"One thing is more important than any other, to play every game as a final, as a team, to try to win every game," Ivanovic added. "The supporters didn't expect us to be in this situation this year.
"This is a game for us to show character and a game to react after this one [in Bucharest]. It is going to be very difficult, like always."
Cech remains optimistic Chelsea will be in the draw for the last eight of the Europa League on March 15 by overcoming Steaua in the second leg at Stamford Bridge.
His confidence stems from moments such as the Napoli tie last season, when the Blues overturned a 3-1 deficit in a key part of the extraordinary run to Champions League glory.
"It's disappointing to have lost 1-0," the Czech Republic goalkeeper added. "Overall we had more chances, better chances, more shots. The only moment they really were dangerous was when they had the penalty and they converted it.
"In the past we've turned a much bigger deficit than 1-0. I think 1-0 is nothing dramatic, you just need to make sure you score goals, you don't concede. We will be at home. It will be a different story."