Transfer news: Brazilian sensation Neymar again admits European desire
Neymar has again acknowledged his desire to move to European football, but has refused to give his preference.
By Paulo Freitas, Francisco Acedo & Andres Garavaglia
Last Updated: 09/03/13 12:09pm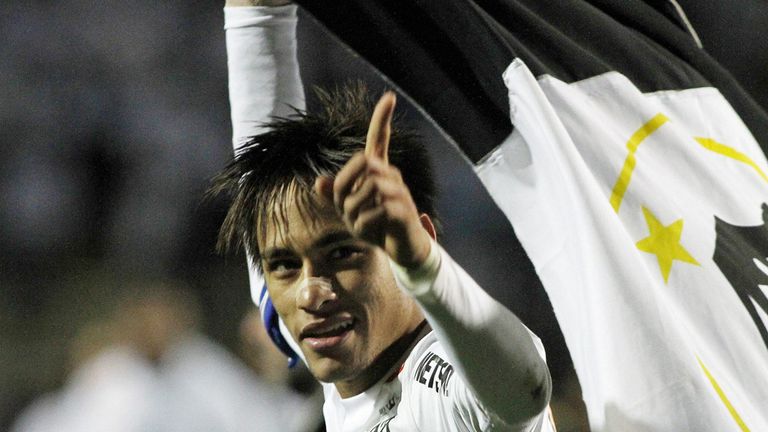 Speaking to Spanish radio station Cope, he was asked if he would rather join Real Madrid or Barcelona - something he would not be drawn on.
"I have no preference for Barcelona or Real Madrid. They are both great clubs that are respected by everyone. They each have their own history and fantastic players," said Neymar.
"In the past few years, Barcelona have impressed the entire world with the way they play. They are one of the best teams in the world.
"Playing in Europe continues to be a dream, but I do not know whether it will happen soon. Only I decide when I'm ready for it.
"I will make the move when I make the decision myself. It's not about anybody else, but solely my call. If I feel I have to go now, I'll leave now. But if I want to stay for five more years, I'll leave in five years."
Neymar denied that he had publicly decided on his future, saying: "These things are invented, they said I spoke and I did not. The news is different to what I talked about."
Neymar's manager at Santos, Muricy Ramalho, has given his opinion, admitting the club would prefer he joined Barcelona.
"We hope that he joins Barcelona, here at Santos, as amazing as it sounds, we became fans of Barcelona after the defeat [in the Club World Cup final], due to how they play. I hope he plays there, but I don't know if he will go. It's just a hunch because of their tactics, technique - the way they play," said Ramalho.
"But it's hard to guess where he will play, those who handle his career will decide.
"He is happy, but is also tired of responding that he will not join Barcelona. But people keep insisting. Maybe he says things to make you all calm down, and leave him alone.
"The idea is that he stays, that is even in his contract. But I'll repeat, he seems to want to play here, he is happy. Now it's his parents and the people that handle his career that will decide what will happen."
Once again quizzed about his future, the player's father, Neymar da Silva Santos, simply said: "Neymar isn't leaving [Santos] now."