Chelsea captain John Terry says whole squad are behind Fernando Torres
John Terry has backed Chelsea team-mate Fernando Torres to prove his doubters wrong and go on a goalscoring spree.
Last Updated: 17/03/13 10:46am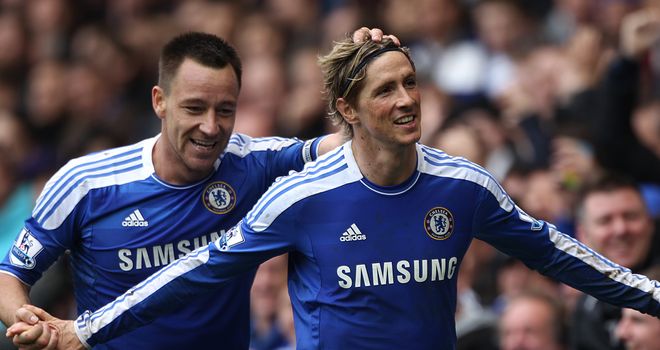 Torres scored only his second goal in 20 games in Thursday's Europa League win over Steaua Bucharest to help fire Chelsea to the quarter-finals.
The former Liverpool man has come in for criticism again this season for some below-par performances, but Terry insists the Spain international has the full backing of his team-mates.
"It only takes that one goal or something to happen for him to really kick on, but he's putting in a shift for the team as well," said Terry.
"Sometimes that doesn't get picked up as much as it should do. You know what it's like for strikers. Mentally he has had to be very strong - and he is. He has got the full support of the fans and the players. It will always remain that way.
"We are eager for him to score goals. He will certainly get the support and the assists from the quality that we have in the side."
Terry, who has been in and out of the side since returning from injury, admitted qualifying for the UEFA Champions League is a 'must' for Chelsea and he hopes they can end a disappointing Premier League campaign by winning the FA Cup and Europa League.
"That's the target - to make the Champions League next year, which is a must for us," added Terry.
"Players are here to win things. We all want to win things. Managers will come and go. Players will come and go. But we must give these fans something to cheer for and to fight for.
"We are through in the Europa League, we are still in the FA Cup and we'll fight for the Champions League spots because we know how much it means to the owner and to the fans.
"They are the most important thing to me."