Rafael Benitez satisfied with Chelsea's display against Rubin Kazan
Chelsea interim boss Rafael Benitez feels his charges showed their mettle in the 3-2 defeat to Rubin Kazan.
Last Updated: 12/04/13 3:52pm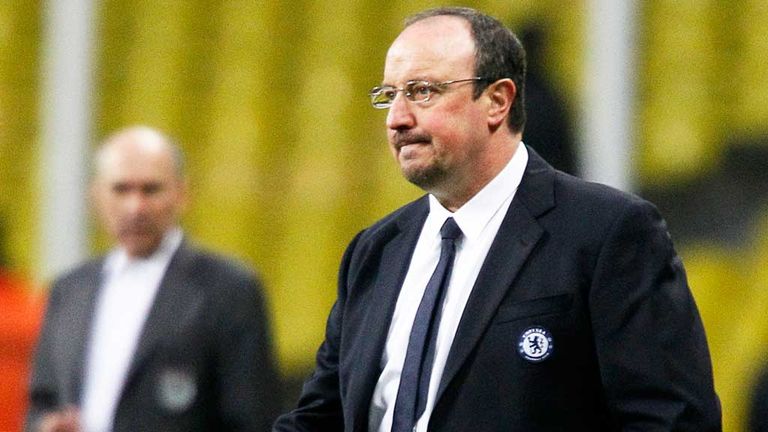 Despite the loss on a topsy-turvy night in Moscow, Chelsea progressed to the semi-finals of the UEFA Europa League with a 5-4 aggregate victory.
The outcome was in little doubt after Fernando Torres opened the scoring early on, and despite some defensive unease Benitez was satisfied with Chelsea's overall display.
"In the circumstances, with a tough pitch, some players out and lots of young players it's a professional job," he said.
"I'm really pleased with the effort of the players. The second goal we could have done better but they were pushing and pushing.
"We needed an early goal and Fernando has scored it. I'm pleased with the effort but disappointed because they were pushing and pushing and we could have done a little bit better in defence.
"But credit the players because we have gone through."
Benitez insists he is content for his Chelsea players to disagree after Frank Lampard and David Luiz had a heated exchange while leaving the Luzhniki Stadium pitch at half-time, when Chelsea led through Torres' fourth-minute strike.
"It's always good to have players arguing about things that can happen on the pitch," said the manager.
"You can correct these things at half-time. We were talking about that, we were adjusting positions and I think it's fine, so it's not a problem."
Torres
Torres was the difference in the tie, but perhaps his fourth-minute goal - his 19th of the season, fourth in three Europa League games and a strike which meant the Russians needed three to force extra-time - released so much pressure that Chelsea eased off and allowed Rubin's second-half flourish.
Benitez has often rotated Torres and Demba Ba, who is ineligible in Europe, but may be considering leaving in the Spaniard in the FA Cup semi-final with Manchester City at Wembley on Sunday, particularly as Ba is recovering from an ankle knock.
"Fernando did really well," said Benitez. "He's been doing well in the last games, he's working hard, he's creating chances for himself and his team-mates.
"We will think what we have to do for Sunday. Still we need to check how Demba is and afterwards we will decide."
Rubin had already eliminated 2012 Europa League winners Atletico Madrid and they were seeking to add the UEFA Champions League holders to their list of conquests, but were narrowly denied.
Rubin Kazan coach Kurban Berdyev said: "I have mixed feelings. We won but I'm really sorry we couldn't make it through.
"On the other side I'm satisfied with the game, especially the second half.
"Unfortunately we made mistakes which we usually don't make and Chelsea can punish and they punished us for our mistakes."