Chelsea club secretary David Barnard has come out in support of Rafa Benitez
Chelsea club secretary David Barnard believes Rafa Benitez deserves more credit for his success this season.
Last Updated: 12/04/13 3:50pm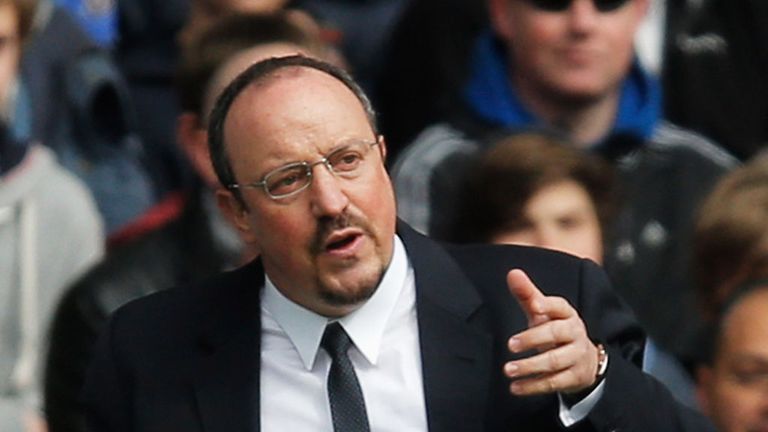 The Blues reached the semi-finals of the Europa League on Thursday and they face Manchester City this weekend in the last four of the FA Cup at Wembley having already reached the semi-finals of the Capital One Cup this term.
Benitez's side have been drawn against Swiss outfit Basel in the semi-finals of the Europa League as they look to follow up last season's Champions League success with another European trophy.
The Spaniard has come under fire for some of his team selections as he tries to juggle the cup competitions with the race to finish in the top four of the Premier League and Barnard feels Benitez deserves praise for what he has done so far at Stamford Bridge.
"Credit must go to Rafa," Barnard told Sky Sports News. "Some people have actually criticised some of his team selections, but to be actually in two semi-finals then he must be doing something right."
Barnard admitted Basel were the team they were hoping to draw in the semi-finals of the Europa League despite the Swiss side showing their worth by knocking out Tottenham in the quarter-finals.
"I think before the draw was made we would have hoped for Basel having known both Benfica and Fenerbahce, but then Basel have just put out our colleagues from the Premier League Tottenham and were responsible last season for Manchester United not getting through the group stage [in the Champions League] so it is going to be a tough game."
Barnard is hoping Chelsea can create a bit of history by becoming the first English team to win all three European trophies having already won the European Cup and the European Cup Winners' Cup in the past.
He continued: "If we were to do that it would be there in tablets of stone and cannot be changed and if we play in the final of the Europa League final we will still be holders of the Champions League so we could be holders of both trophies at the same time."