Chelsea midfielder Frank Lampard expects 'proper' Wembley semi-final
Chelsea midfielder Frank Lampard admits he is relishing Sunday's Wembley FA Cup semi-final against Manchester City.
Last Updated: 14/04/13 10:57am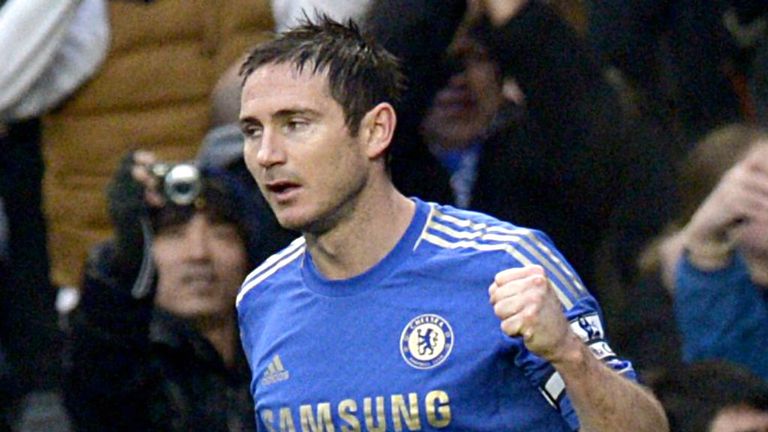 The Blues reached the Europa League last four on Thursday thanks to a hard-earned aggregate success against Rubin Kazan, but now attentions have turned to an in-form City side.
The Stamford Bridge club are seeking a fifth FA Cup triumph in seven years and Lampard, who could be in the final weeks of his 11-year spell at the club, is targeting yet more silverware.
"It's a tournament that's been pretty good to us," Lampard said.
"We've just performed very well and we've got good success. That can change the minute you don't perform so well.
"Against a team of Man City's quality, you can't take any positives from previous history.
"If they're at their best, we're below our best, they'll probably win the game, and vice-versa. You're talking about two very good teams.
"We've got a lot of respect for them and I think it will be a good match, especially if both teams are at their best. You'll see a proper Wembley semi-final."
Roberto Mancini's 2011 winners have all but relinquished their Premier League title to champions-elect Manchester United, but are sure to be boosted by their win at Old Trafford on Monday.
"There's a few key threats for them," Lampard said. "(Carlos) Tevez is a fantastic player. I love his energy and his quality. He's always a threat and he's done it against us a few times.
"(Sergio) Aguero, what he did the other night (scoring against United), speed off the mark, his ability.
"I think they'll probably be on a high from their last result in the league, but other than that I think it's an even start with two good teams."