FA Cup: Chelsea star David Luiz does not have bad feeling towards Sergio Aguero
Chelsea star David Luiz says he forgives Sergio Aguero for his two-footed challenge on him.
Last Updated: 15/04/13 6:56am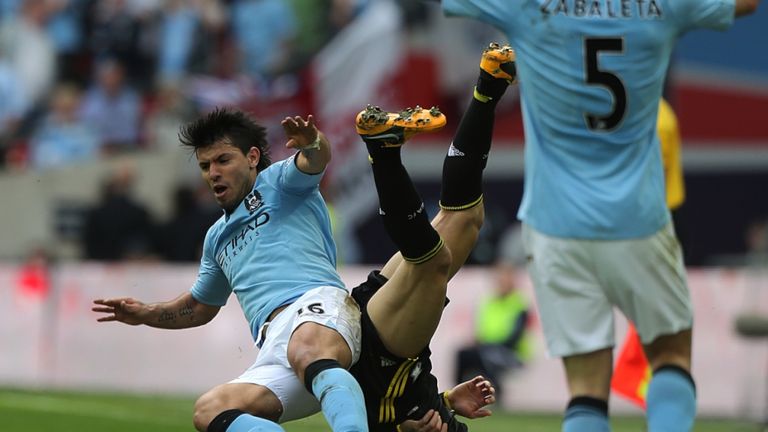 The Argentine and the Brazilian came together towards the end of the FA Cup semi-final clash between Manchester City and Chelsea, which saw the holders go out 2-1.
After a shoulder challenge, Aguero's two-footed follow through caught Luiz, but it was seemingly not spotted by referee Chris Foy.
But Luiz does not hold it against Aguero, and said: "I never saw Aguero do a bad tackle on other players. It was five seconds of anger and I forgive him."
It is unlikely the South American will face restrospective action as it occured within a Luiz challenge that meant even the Brazilian wasn't exactly sure what had happened.
"Many people have said to me about this tackle. I didn't see it because I was on my back," he said.
"I felt it a little bit. Sometimes in a game people have five seconds when they are angry and do things they don't like to do. I think it was that.
"Aguero's a great player, he needs to be honest with himself and say I don't like to do bad tackles.
"People are happy when Aguero scores goals and does good things in the game.
"Many kids see the game, watch the game and they want to see good things and not bad things."
City boss Roberto Mancini said he had not seen the incident, even though it occured right in front of his dug out.
"I need glasses," he said, sarcastically. "If I saw I would say I saw.
"I don't know what he did but usually Aguero takes a lot of kicks from the defenders.
"The referee was there. There are six referees."