The FA may look into Sergio Aguero's two-footed challenge on David Luiz
Manchester City forward Sergio Aguero is waiting to find out whether the FA will ban him retrospectively.
Last Updated: 15/04/13 8:24am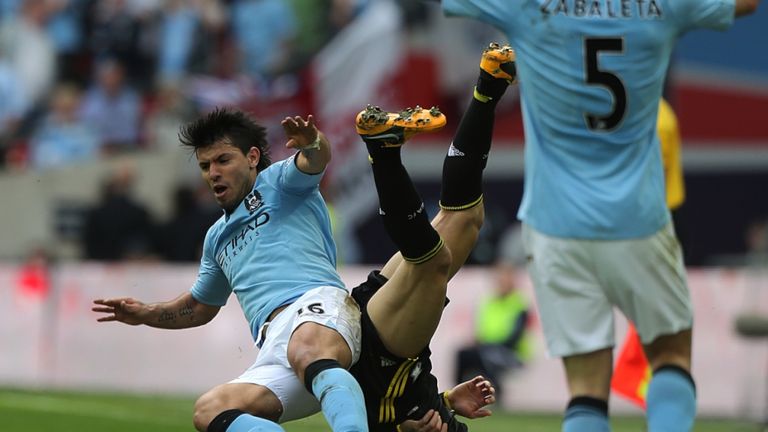 Luiz appeared to catch Aguero with an elbow as the pair chased the ball in the 82nd minute and the Manchester City forward retaliated by diving in two-footed on the prone Blues defender.
Aguero had earlier scored what turned out to be the winner in City's 2-1 triumph but the FA will discuss the Luiz clash with ref Chris Foy, who only gave Chelsea a free-kick.
Blues boss Rafael Benitez was furious about the incident and, when asked about it after the game, tersely replied: "See the video. I will not talk about other players."
But he added: "I'm very disappointed at the moment, you have officials to make decisions. It's something they have to clarify."
Luiz wants apology
Luiz says he forgives Aguero but thinks the forward should apologise for the challenge.
"I forgive everybody in my life but Aguero is a great player and he needs to honest with himself and say I don't like to do bad tackles," said the Brazilian.
"If it was the opposite, and I did the tackle, I would say 'sorry, this is not me, this is not good for football'. Kids watch the game and need to see good things.
"We need to show football is beautiful. In games like this both teams want to win, sometimes people can be angry and do things they don't want to do."
Manchester City boss Roberto Mancini said: "I don't know what he did but usually Aguero takes a lot of kicks from the defenders.
"The referee was there. There are six referees."