Premier League: Rafa Benitez was pleased after Chelsea beat Swansea
Rafa Benitez thought Chelsea fully deserved the 2-0 win over Swansea that lifted them into third in the Premier League.
Last Updated: 29/04/13 7:57am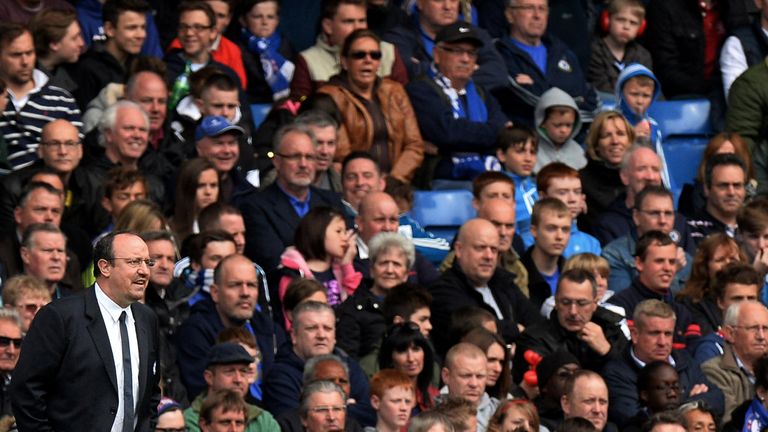 Frank Lampard came on for the injured Ramires in the 24th minute and provided the goal assist for Oscar's 43rd-minute opener.
He then notched from the spot after Juan Mata was pulled down by Leon Britton in the box to score his 201st goal for the club - one short of Bobby Tambling's Chelsea record.
Benitez told Sky Sports: "I think it was a good game because not just to win, we created a lot of chances, we play nice football, the fancy players that we have, they were always around the box and defending we had some balance.
"Some situations in the second half, they were attacking a little bit more and between the lines we had some problems, but still we had a lot of chances and I felt for the fans, it was a good game."
Benitez acknowledged the contribution made by Lampard when he came on.
He said: "Obviously Frank is a player that the fans love so that was good but still the team was controlling and I felt that at this time, Chelsea has more energy and it was more difficult to find the spaces.
"But little by little the game was more open and the quality of our players, the combination was quite good.
"It is always important to score the first goal - to score two close to the end of the first half even better so we could start the second half with more confidence, they had to go forward so they leave more spaces and then that means we can use those spaces."
Lampard met Tambling, who appeared in a wheelchair as Chelsea's guest of honour, before and after the game and he said: "I'm glad he was healthy enough to be here and it was nice to see him.
"There could not be more of a gentleman to hold that record. It would have been great to [match the record] in front of him but it doesn't work that way.
"I try for it not to be on my mind because people are talking about it. If I am confident and playing regularly and training hard the goals will come."
Chelsea have gone three points clear of Spurs in the race for a UEFA Champions League place ahead of Thursday's Europa League semi-final second leg against Basel and Sunday's trip to Manchester United.
Benitez added: "We said that it (the race for top four) could go on until the end of the season so we have to concentrate on every game. Today to get three points, to do well, to play nice football was also important.
"So we have to be ready now for Thursday and after Sunday obviously."