Branislav Ivanovic desperate for Chelsea success in Europa League final with Benfica
Chelsea's Branislav Ivanovic is determined to end the season with success in the Europa League final with Benfica.
Last Updated: 12/05/13 1:30pm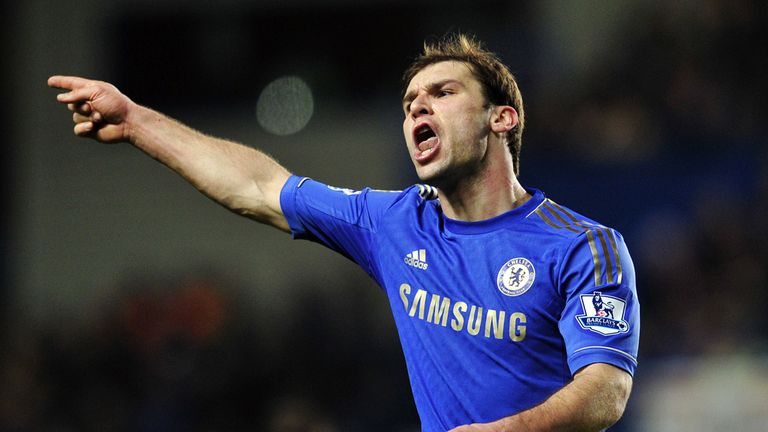 It has been an indifferent campaign for last year's Champions League winners, failing miserably at the first hurdle to defend their crown and failing to push Manchester United in the race for the Premier League.
The Blues began the season in contention for seven trophies and the Europa League is the unexpected eighth and Wednesday night in Amsterdam is their final chance of silverware.
"All the season has been difficult, but now is almost the end of the season and we have to do everything to finish the job off," said Ivanovic, ahead of Chelsea's 68th game of the campaign.
"It was very disappointing for us to go out of the Champions League. We tried to motivate ourselves to do our best in the Europa League. We're in the final and we're happy about that. We will do everything to try to win the trophy.
"It's going to be very hard. We will play against Benfica, a very good team. It's very important, another final for the club and another chance to win a trophy.
"It's very important for us as a group to get the chance to finish the season
with a trophy."
Champions League-winning boss Roberto Di Matteo paid the price for Chelsea's failings in the competition and the transition through the Europa League under interim boss Rafael Benitez has been a bumpy one.
Yet now they are in the final, the Blues will bid to claim a one-off win over Benfica, a side they defeated in the Champions League quarter-finals last term.
Ivanovic added: "All of us remember how tough it was. We expect the same. The final is something different, something special. It's only one game and
we have to be ready."
Ivanovic missed the final against Bayern Munich through suspension and is thrilled to be involved in a final this time round.
"This is, for us, as a group, a great chance to try to finish the season with a trophy, which is very important for us, for the club, for the supporters," the Serbian added.
"We're looking forward to that. You have to be just focused for this game. Finals are special games and we play against Benfica which is a very tough team. We have to be ready for it."