Chelsea's David Luiz explains laughing at Rafael dismissal
Chelsea star David Luiz has hit back at claims of being unprofessional by saying he respects everyone on the pitch.
Last Updated: 14/05/13 8:55am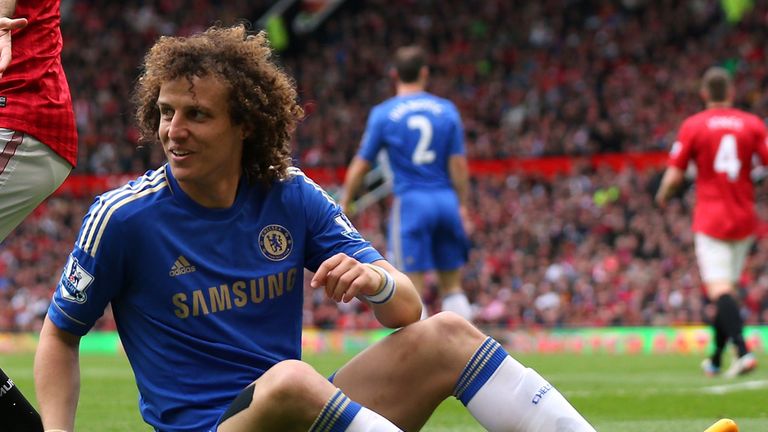 Manchester United manager Sir Alex Ferguson accused Luiz of over-reacting to get Rafael sent off during Chelsea's 1-0 win at Old Trafford earlier this month.
Luiz was seen to smile after being kicked over by Rafael, but the Brazilian claims he was laughing at the taunts from United fans over his likeness to cartoon character Sideshow Bob from The Simpsons.
"I didn't laugh at Rafa, I laughed to the fans, five seconds after the tackle. I laughed before the red card," insisted Luiz.
"I respect everyone on the pitch and I can laugh when the people sing something for me.
"It's better I laugh than cry, no?"
Luiz, who faces former club Benfica in Wednesday's Europa League final, is keen to beat his old side after suffering defeat in two other finals this season.
The 26-year-old won the FA Cup and Champions League in his first full season, but has since suffered defeat in the European Super Cup and the Club World Cup final and he is keen to win more silverware to make amends for this season's disappointments.
"Now is the time to win," added Luiz. "I lost three finals this season, so it is the time to win.
"For me, the Europa League is one more big title. Always I say when you win something and you finish you are hungry again. Last year, I ate beef. Now I have chicken, but I'm still hungry again and want to win more titles.
"It will be a difficult game. A special day for me, special day for my team-mates. I think it will be a strong game for me. It will be a game with a lot of emotion. I just want to win."