Europa League: Benfica coach Jorge Jesus denies using Chelsea dirty tricks
Jorge Jesus has denied that his Benfica team have resorted to dirty tricks to gain a psychological edge over Chelsea.
Last Updated: 14/05/13 6:59pm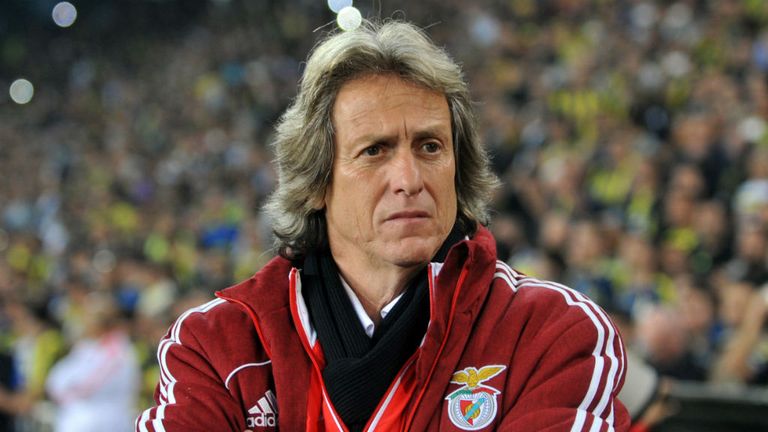 Benfica will be looking to avoid their seventh straight defeat in a European final on Wednesday night at the Amsterdam ArenA.
The build-up to the game has been overshadowed slightly by comments from Benfica forward Pablo Aimar, who described the current Blues squad as the worst since Roman Abramovich bought the club 10 years ago.
The Argentine expressed his bemusement at the fact that neither John Terry nor Frank Lampard are now considered regular starters while he also claimed that the Chelsea squad are not behind their interim manager Rafael Benitez.
Jesus sought to play down the 33-year-old's comments, telling a press conference in Amsterdam: "No Benfica player has undermined the quality of any Chelsea player or the Chelsea team.
"In my opinion the strongest team make the Europa League final. Chelsea is an excellent team and they will finish third in the Premier League this year. They have quality."
Chelsea certainly have suffered a fall from grace in recent times. Twelve months ago this weekend the west London club enjoyed the most glorious night in their 108-year history - a Champions League final win over Bayern Munich - but now their only chance of silverware is the often-derided Europa League.
Benfica's decline goes much further back, however. Long gone are the days when Eusebio ran rings around some of the best players on the planet in the 1960s.
The Lisbon-based club may have racked up 32 league titles in their history, but their last European success came 51 years ago when their most famous player helped the team to a memorable 5-3 European Cup final win over Real Madrid in Amsterdam.
They hope that the game being staged in the same city and the presence of Eusebio, who will be a guest of honour at the game tomorrow, will prove to be good omens.
"For Eusebio to travel here and share such a moment with us is important for the team," Benfica captain Luisao said.
"Obviously we respect Eusebio, he is the king and it's very important that the players know about his importance and his legend, which is still important even today, and use it as a reference point."
Jesus has done his best to try to bring back the European glory days to Benfica since he took over in 2009.
The 58-year-old made the semi-finals of the Europa League in 2011 - a year before they were eliminated by Chelsea in the quarter-finals of the Champions League.
"Benfica is a club that throughout its history has had an excellent performance in Europe," said the Portuguese, who has won one league and three cups since taking charge.
"It created a name for itself in the 1960s and 1970s that was there alongside Real Madrid and AC Milan.
"It hasn't been the same since, but Benfica has recovered some of its prestige over the last few years and we want to create that kind of international prestige again.
"Tomorrow we will be in a big European final and we did well in the Champions League last year and the Europa League the year before.
"We are working towards an improved image of the club in Europe and that will be helped tomorrow if we win because it also gives us the chance of playing in the European Super Cup."
Jesus, who will be coming up against former Benfica stars Ramires and David Luiz, is looking for his side to bounce back from Saturday's damaging defeat to rivals Porto.
Porto struck in injury time to leapfrog Benfica into first place ahead of next weekend's final round of matches.
It was a cruel blow for Jesus' team, who have topped the table for most of the campaign, but the manager insists his team have already forgotten the loss.
"It was an important game, but it has nothing to do with this one," he said.
"They players are very, very highly motivated. They want to be at their highest level."