Rafael Benitez hopes to placate Chelsea fans with Europa League victory
Rafael Benitez believes he will finally win over dissenting Chelsea fans if he leads them to Europa League glory.
Last Updated: 15/05/13 6:41pm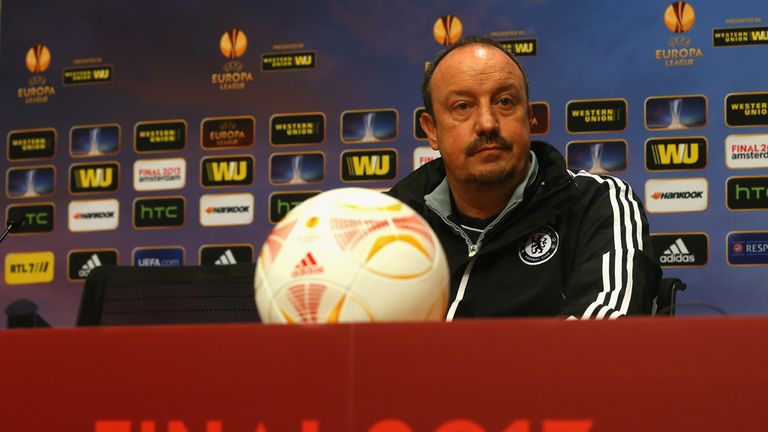 His appointment as interim manager at Stamford Bridge after the sacking of Roberto Di Matteo drew widespread criticism from the Blues supporters.
But the Spaniard has guided Chelsea to a near-certain top-four place in the Premier League, and they now face Benfica in the Europa League final at the Amsterdam ArenA.
"You can always make mistakes but it was not an easy situation at the beginning," Benitez said. "We have managed it quite well. Every day, after every training session, I go home and think we are doing our best.
"For me it is always important to win trophies. If we win it will be easier and people will realise that to be here, at this stage of the competition, means we have done a lot of things well.
"You have to analyse from the beginning. You have to analyse the age of our players, the new players, the transition period we have had, the short squad at times and all the competitions.
"After Thursday we will have played 68 games. For the last six months we have been playing two games a week at least.
"Imagine any team in the world doing that and progressing to semi-finals of two competitions and final of one. It doesn't matter what a lot of people say, we feel we have done a good job. Hopefully we can do even better."
Chelsea are aiming to become the first club in history to win the Europa League the season after the Champions League, although only because they are the first European Cup holders to crash out in the group stages.
But veteran midfielder Frank Lampard said: "You can't have it your own way every year. We were lucky enough to have had a great run to the Champions League final and win it last year.
"At first we were disappointed to end up in the Europa League. But the more we have been involved in it, the more we have learned to love it. We wanted to progress and the closer we got to the final, the more we wanted to be here."