Boys from Brazil
Chelsea players Ramires and David Luiz will face their former club Benfica in the Europa League final in Amsterdam on Wednesday evening. It hasn't all been straightforward for the pair since leaving Portugal but Adam Bate feels their fan clubs are growing.
Last Updated: 15/05/13 12:02pm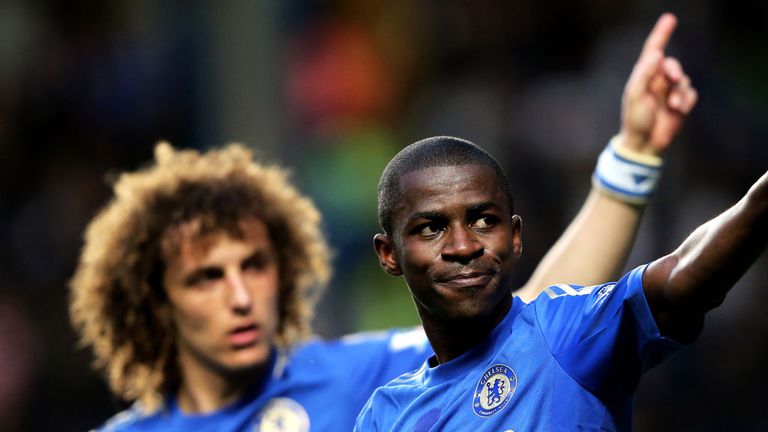 There are always preconceived ideas when it comes to footballers. Sometimes it can be something as simple as their name or nationality. Alex Bellos claims in his book, Futebol, that: "The phrase 'Brazilian footballer' is like the phrases 'French chef' or 'Tibetan monk'. The nationality expresses an authority, an innate vocation for the job - whatever the natural ability. Irrespective of talent, it is very seductive to have a Brazilian in your team."
In the 2010-11 season, Chelsea added two of them. Midfielder Ramires joined in a €22million deal from Benfica in the summer and then his former team-mate at the Estadio da Luz, David Luiz, also arrived in west London for a reported fee of €25million. Expensive acquisitions but neither man was quite what the British public were expecting.
Luiz, in particular, came with a big reputation. Renowned scout and former Monaco chief executive Tor-Kristian Karlsen was effusive in his praise of the defender as early as 2010. "David Luiz is the player to buy," wrote Karlsen on Twitter. "Wonderful defender, elegant, excellent on the ball, pacey, versatile, commanding. He's got it all."
The Chelsea boss at the time was Carlo Ancelotti and he immediately recognised the qualities Luiz could bring, pointing out: "He has very good technique and can help us build our play from the back." Regarding Ramires, he was even more fulsome in his praise, saying: "He is a fantastic player. He will be the future of the Brazil national team and I hope he will be the future of Chelsea."
Criticism
But the criticism was swift. Without the trickery to instantly endear himself to new supporters, Ramires was something of an easy target and Telegraph football reporter Mark Ogden was quick to label him as the new Kleberson, harking back to the player's compatriot who had flopped in his time at Manchester United.
Luiz did pick up the Premier League player of the month award for March 2011 but there were high-profile errors too. Sky Sports' own Gary Neville came up with the phrase that stuck when left exasperated by Luiz in a game against Liverpool in November 2011. "You wonder if David Luiz is being controlled by a 10-year-old in the crowd with a PlayStation," Neville famously broadcast to the world. It struck a chord.
The curse of those who make the game look easy is that the accompanying errors can seem inexplicable as a result. And amid all the composed performances those mistakes continued, particularly during an uncertain spell for the Chelsea team as a whole in the early part of this season. As recently as October, Luiz was coming in for scathing criticism from ex-Liverpool defender Alan Hansen for a display against Manchester United.
"In the final 20 minutes of the game, Luiz was like something out of a comedy strip with his farcical defending," Hansen told the Telegraph. "When you have a player such as Luiz in the back four, with nobody knowing what or where he is going to be next, it creates uncertainty. It is almost two years since he arrived at Chelsea, but he has rarely gone more than four or five games without making a mistake."
Harsh
It is a harsh assessment of a player who contributed to Chelsea winning last season's Champions League. But the man himself has responded to criticism in the correct way, by seeking to better himself. He told World Soccer: "Personally, criticism does not affect me because it is inevitable, especially when you are a defender. I do not have any bad feelings towards those who say negative things, I just try to work even harder."
Improved performances since the autumn finally seem to have turned opinion around. He appears to have benefited from the organisation interim boss Rafael Benitez has brought to the team. Benitez explains: "David is showing everyone how good he is. He can use both feet, he can pass, he can win it in the air."
Even his most famous critic is backtracking. "The David Luiz comments were a moment in time describing a performance within a game," Neville told Soccerex in April. "It wasn't 'I don't think he's a good player and never will be a good player' like it's been interpreted over this past two years as though Gary Neville doesn't rate David Luiz. I was just describing a moment in a game. I think he has incredible merits as a player."
Tackles and Interceptions (Chelsea) - PL 2012/13
Player Name
Appearances
Tackles and Interceptions
Ramires
35
167
David Luiz
29
113
Cesar Azpilicueta
26
111
The merits of Ramires have also become more obvious over time. The 26-year-old may favour the toe-poked finish over the silkier skills but his stamina and energy have transformed the Chelsea midfield. To be blunt, sometimes you just need someone to run about. And when it is done with purpose and intelligence, the mobility of Ramires becomes a significant weapon in defence and attack.
The defensive qualities of both men are reflected by the statistics. When it comes to tackles and interceptions, Chelsea's Brazilians lead the way. The adventurous trio of Eden Hazard, Oscar and Juan Mata have taken the headlines this season but Benitez has been shrewd enough to provide a platform to succeed, frequently utilising Luiz in midfield. As a result, both he and Ramires are surely certain to start against their old club on Wednesday evening.
That could prove an emotional occasion. "I have a great affection for Benfica," said Ramires recently. "Playing against them will bring a special feeling." Luiz added: "I have Benfica in my heart because it gave me the opportunity to come to Europe. I joined Benfica from Vitoria in Brazil, which was a huge upheaval, leaving my home country and moving to a different continent."
David Luiz has come a long way since then. And the chance to face Benfica in a European final feels fitting for both him and his compatriot. For despite all the early criticism, the hefty price-tags and the misguided expectations, they take on the Portuguese giants as even better players than when they left.
Win the ultimate Sky Sports experience and attend five major sporting events all in one weekend. Enter now!