Kluivert fancies Chelsea
Dutch legend Patrick Kluivert is backing Chelsea to prove too strong for Benfica in the final of the Europa League.
By Peter Fraser - Follow me on Twitter @SkySportsPeteF
Last Updated: 15/05/13 3:49pm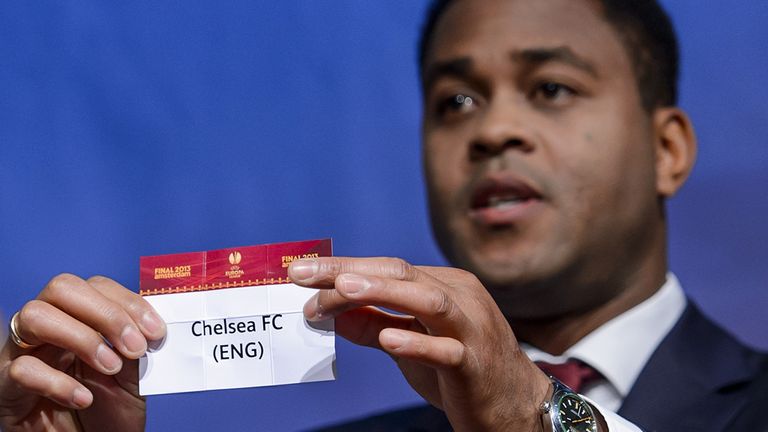 Dutch legend Patrick Kluivert is backing Chelsea to prove too strong for Benfica in the final of the Europa League.
Last season's UEFA Champions League winners meet the Portuguese giants in Amsterdam on Wednesday in what is set to be an engrossing and glittering encounter between two continental heavyweights.
Chelsea will need to beware the likes of Oscar Cardozo, who has scored six times in the Europa League this season, but Kluivert thinks Fernando Torres and Demba Ba can fire Rafa Benitez's side to glory.
UEFA Europa League final 2013 official ambassador Patrick Kluivert said: "To win the Europa League is a very good thing. But I would say Chelsea will win.
"Oscar Cardozo, for me, is a very good striker. [But] Torres and Ba are top strikers as well."
Former Ajax, Barcelona and Newcastle United forward Kluivert was speaking as part of the PASS initiative run by Western Union, the global partner of the Europa League, in partnership with UNICEF.
The PASS campaign, which is expected to run for the three years of Western Union's sponsorship of the Europa League until 2015, is fronted by former France star Patrick Vieira and it turns every successful pass in the competition into funding that supports education for young people around the world.
Collaborating with UNICEF will initially focus on education programs in Nigeria, Jamaica and Turkey, with funding supporting projects including teacher training and curriculum development, financial literacy, vocational and life skills training for adolescents, school improvements and more.
Chelsea star Victor Moses could face Benfica on Wednesday night and, in the process, he would likely add to the 161 passes he has contributed so far to the PASS scheme this season in the Europa League.
The Nigeria international said: "Western Union's PASS initiative has done a great job in helping bring education to even the most under privileged countries, and I have been honoured to be a part of such a fantastic campaign.
"The Europa League is a massive tournament and we are all looking forward to what should be a great final."
Ex-Cannes, AC Milan, Arsenal, Juventus, Inter Milan and Manchester City player Vieira, who remains a Football Development Executive at the Etihad Stadium, said: "Where I come from, opportunities for a quality education are rare.
"Football was my ticket to success. But for the vast majority of young people, education is the key that allows them to become whatever they want to be.
"That's why I support this campaign. It will benefit students, teachers and schools in places like Senegal, where I was born and lived until moving to France at the age of eight."
Fans can learn more at www.wu-pass.org or join the conversation on Twitter @wu_pass