Europa League: David Luiz and Cesar Azpilicueta salute Chelsea boss Rafa Benitez
Chelsea defenders David Luiz and Cesar Azpilicueta saluted Rafa Benitez after he guided the club to Europa League glory.
Last Updated: 16/05/13 11:40am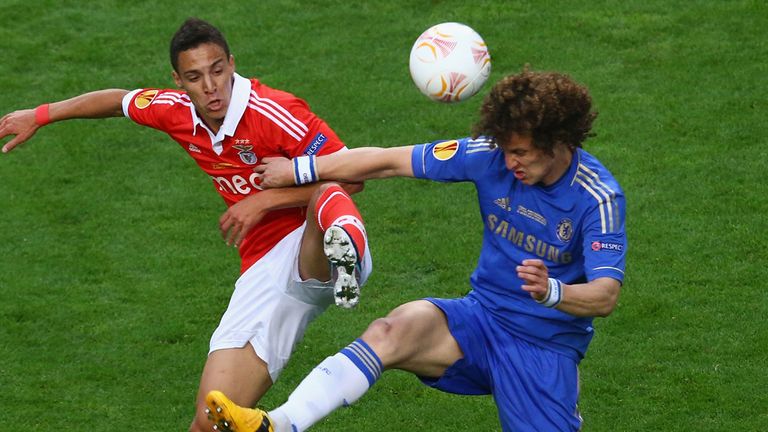 Benitez's short-term stay at Stamford Bridge, in which he has never won over sections of the fans, is expected to come to an end after Sunday's clash with Everton.
He will sign off with silverware added to the trophy cabinet after Branislav Ivanovic's last-gasp header secured a dramatic 2-1 victory over Benfica in Amsterdam.
Luiz told Sky Sports: "Many people said bad things about him this year, but he is a professional guy with a lot of character and he deserves a title this season. It is fantastic for him.
"He is a fantastic coach, I am so happy with this because he helped me a lot, he taught me many things this year."
And Azpilicueta added: "Football is like this, life is like this. Sometimes you change the players, you change the manager.
"I am very happy with him because I have played a lot of games and he gave me a lot of confidence.
"Life is meant to carry on, his career will carry on. He tried the best for Chelsea, I am a Chelsea player and I am very happy."
Jose Mourinho has been strongly linked with a return to Chelsea this summer, with the former Blues boss tipped to leave Real Madrid.
Full-back Paulo Ferreira, who followed Mourinho to West London from Porto back in 2004, would welcome the chance to work with his old boss once again.
Ferreira told Sky Sports: "He is someone who came into Chelsea and this means titles; that is what the club wants.
"The last 10 years that he has been a coach you can see he succeeds in every league. That is why everyone wants to see him here, but let's see what happens."