Rafa Benitez coy on participation in lap of honour at Stamford Bridge
Rafael Benitez is refusing to say whether he will take part in Chelsea's lap of honour.
Last Updated: 20/05/13 2:47pm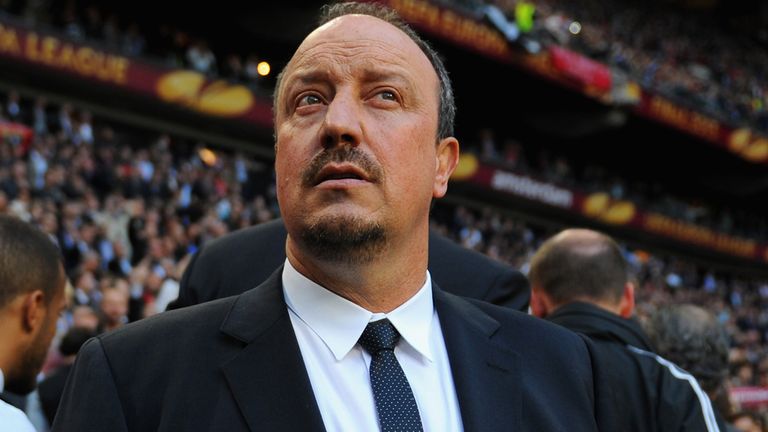 It will be the Blues' final game of a gruelling 69-match season - provided they do not finish the season with an identical record to Arsenal, in which case a play-off will be required to decide who finishes third.
Benitez is refusing to entertain the idea of a play-off, insisting they will go all out to win their final game to secure third place and qualify automatically for next season's Champions League.
And he is refusing to be drawn on his participation in a lap of honour when the squad enjoy the acclaim of the supporters following their Europa League final victory.
Benitez has been given a rough ride by Chelsea fans since his arrival at Stamford Bridge to take over from Roberto di Matteo, and he has confirmed he will be leaving when their season is confirmed as being over.
"I will try to concentrate on the game, enjoy, hopefully, the game and see what happens after," said Benitez, who said he had received messages of congratulations from fans through his website.
"What I can guarantee is that I will try to win the game. That is the main thing."
On the prospect of a play-off, Benitez said: "It's too early to talk about that.
"We consider that we will not go to the play-off, so we prefer not to discuss that. If we have to do it, the rules are the rules. I don't think it's ideal, but in trying to avoid this situation, we will score goals and we will try to win."
Benitez believes his side deserve third place, adding: "It's always important to finish well. We have been working so hard during the season that it would be a pity if we cannot guarantee top three.
"It's a really good group of players and I think the club will add some new players. I said the other day it could be £100million, but I don't know. It could be £50m, it could be £20m, it could be £200m. I don't know but I'm sure they will try to improve, like every club.
"And I think the team will be much better because they will have more experience and new players coming in and pushing."