Fulham goalkeeper Mark Schwarzer unsure of future as he waits on offer
Mark Schwarzer believes he has done everything in his power to show that he deserves a new deal at Fulham.
Last Updated: 20/05/13 4:44pm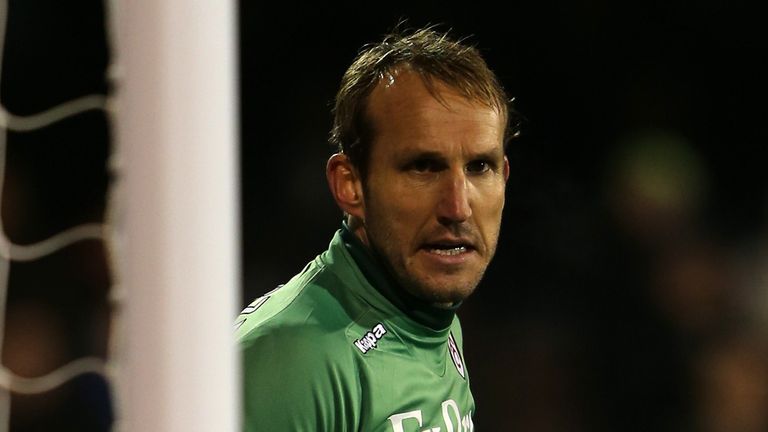 The goalkeeper will be out of contract later in the summer and he admits it is not certain that he will be staying at Craven Cottage.
The 40-year-old's main concern is playing regularly so that he can be in contention for a World Cup place in 2014 if Australia qualify, and Martin Jol has previously admitted that he may not be guaranteed first-team football next season.
Schwarzer accepts that any decision will ultimately be made by the club, but he feels his performances have shown that he is still good enough for the Premier League.
He told Sky Sports News: "I can say now that I haven't had any official offer of a new contract. My contract obviously expires at the end of June and we'll see what happens from there.
"I just try and do my job, which I have done. Obviously the last game was yesterday and now I can fully focus on Australia and try and qualify for another World Cup."
Asked if he would look to remain in the Premier League if his time at Fulham does come to an end, Schwarzer indicated that he would be prepared to take such a step.
He said: "If that were the case I'd love to stay in England. I've played here for a long, long time but you would really have to look at what opportunities are out there of that is the case.
"I am still a Fulham player until the end of June and to stay in the Premier League would be great."
Schwarzer added: "There always comes a time when people make decisions, whether you agree with them or not, and you have to respect them.
"Nobody can be guaranteed a starting position but it is about intent and whether you are regarded as No.1 to begin with. That is what I am looking for. I love football and that is why I am still playing at the tender age of 40.
"It is up to the club and, as far as I am concerned, I think I have done everything I possibly can to show that I am more than capable of playing at this level and if the worst-case scenario does come that I have to leave, then I can always walk away with my head held high.
"It would be sad to move on but unfortunately in football and in life you do have to make choices."