Napoli president Aurelio De Laurentiis clarifies Rafa Benitez comments
Napoli president Aurelio De Laurentiis has clarified earlier comments regarding a deal being agreed with Rafa Benitez.
By Nadia Carminati
Last Updated: 24/05/13 8:02pm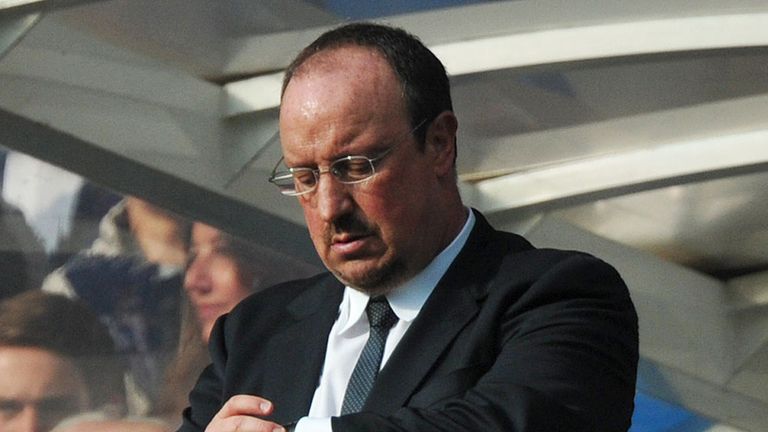 Earlier on Friday, De Laurentiis was quoted as saying that current interim Chelsea manager Benitez had agreed a two-year contract to take charge of Napoli.
However, De Laurentiis now appears to have backtracked slightly by stating that he is not in a position to announce who will replace Walter Mazzarri.
De Laurentiis has identified Mazzarri's successor, but has claimed he is unable to publicly name his next coach until permission has been granted by his target's current club.
"I've closed the negotiations for the new coach, but I can't officially announce it until I get permission from the other club with which he's under contract until June 30th," De Laurentiis told reporters.
"I met in the hall of my hotel here in London a group of people who I have known for many years and I told them, 'I got myself a gift', but I don't name names.
"It could be Pellegrini, Benitez, Blanc, Heynckes or someone we know who is looking for a bench for the future.
"Unfortunately, I can't say due to UEFA's rules, because I am waiting for the club who has him under contract to give us permission to announce it."
Of the names mentioned by De Laurentiis, former Liverpool boss Benitez is not the only potential candidate who will shortly be out of contract.
Manuel Pellegrini has already confirmed he is leaving Malaga, although he is widely expected to take charge at Manchester City, while Jupp Heynckes is being replaced at Bayern Munich by Pep Guardiola.