Florentino Perez refuses to rule out future Real Madrid return for Jose Mourinho
Real Madrid president Florentino Perez is not ruling out the possibility of Jose Mourinho one day returning to the club.
Last Updated: 03/06/13 2:41pm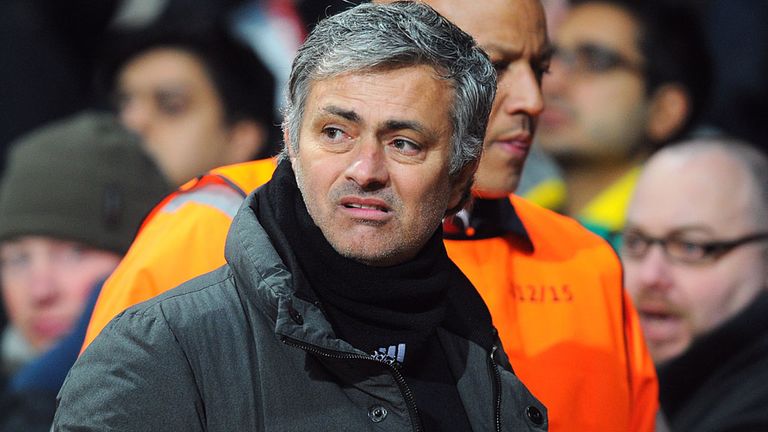 Mourinho's three-year reign in the Spanish capital came to an end following the weekend win over Osasuna, and his return for a second spell as Chelsea boss was confirmed on Monday.
Perez clamed Mourinho's uneasy relationship with the Madrid media hindered his spell in charge, but suggested the 50-year-old could make a return in the future.
He told www.abc.es: "The door is not closed for Mourinho.
"It is difficult to understand what the media are like here but he is leaving us with sadness, I think.
"It is not easy to live with this (media) pressure, which has sometimes been unjust, verging on personal insults.
"In the end we reached a conclusion that after three years the best for him and the club was to separate but to remain good friends. Life is very long and you never know what can happen."
Mourinho's time at Madrid was characterised, particularly in the final 12 months, by personal feuds, most notably with club captain Iker Casillas.
But Perez denied suggestions Mourinho's make-up meant he was unlikely to gel with players with similarly large egos.
He said: "It is difficult to manage 25 players but one of the strengths we saw in Mourinho was that personality: his intensity and demands.
"They were two values which seemed appropriate."
Carlo Ancelotti has emerged as the favourite to replace Mourinho although his current club, French champions Paris Saint-Germain, have made it clear they expect him to honour the final year of his contract.
Perez was coy when asked about the Italian, adding: "Ancelotti is a great coach but has a contract with a club we respect."