Jose Mourinho tells Chelsea fans it was an easy decision to return as manager
Jose Mourinho has told Chelsea fans it was an easy decision to return as manager and says he is 'one of the supporters'.
Last Updated: 04/06/13 7:17am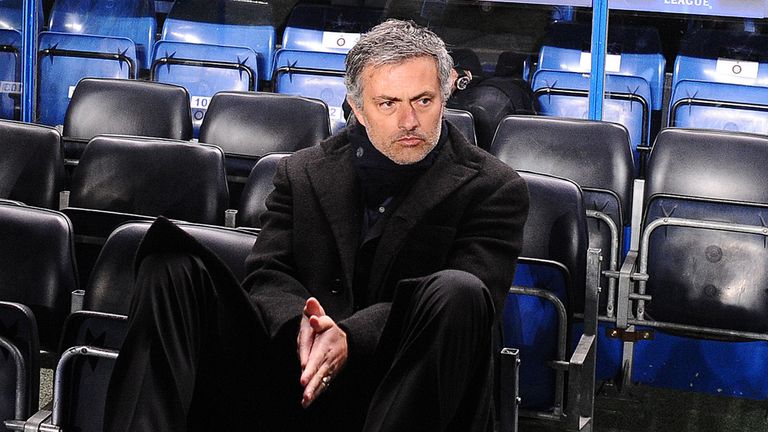 Mourinho, whose haul of five trophies during his first spell in charge included back-to-back Premier League titles, has signed a four-year deal at Stamford Bridge after leaving Real Madrid.
The Portuguese famously coined the nickname 'Special One' during his first press conference as manager back in 2004.
And nine years on in an interview with the club's in-house television channel, the first since his re-appointment was confirmed, Mourinho had another crowd-pleasing soundbite for Chelsea fans.
He told Chelsea TV: "In my career I've had two great passions - Inter and Chelsea - and Chelsea is more than important for me.
"It was very, very hard to play against Chelsea, and I did it only twice which was not so bad (Mourinho's Inter played Chelsea over two legs in the second round of the Champions League in 2010, winning 3-1 on aggregate).
"Now I promise exactly the same things I promised in 2004 with this difference to add: I'm one of you."
Mourinho also revealed it took just five minutes with Chelsea owner Roman Abramovich to agree his return.
He said: "It was an easy decision. I met the boss, I met the owner and in five minutes after a couple of very short but pragmatic questions, we decided straight away.
"I asked the boss 'do you want me back?' and the boss asked me 'do you want to come back?' and in a couple of minutes, the decision was made."
And there are no lingering hard feelings over the manner of his first departure, when he was replaced by Avram Grant barely a month into the season.
He said: "It was a difficult moment because I love it here and have a big connection with the club. Also for the club, my departure it was not easy.
"But if you analyse it in a cool way and you leave emotions a bit apart, I think it was fantastic. After that I had in my career what I was aiming for and Chelsea as a football club got important trophies, with important moments in the history of the club.
"Now we are back together and it is a great moment for both, so I think we are ready to marry again and to be happy and successful again."
Delighted
Mourinho was the obvious choice to take Chelsea forward as the west London club's eighth new manager since he left in 2007, according to chief executive Ron Gourlay.
"I am delighted to welcome Jose back to Chelsea. His continued success, drive and ambition made him the outstanding candidate," Gourlay said on the club's official website.
"It is our aim to keep the club moving forward to achieve greater success in the future and Jose is our number one choice as we believe he is the right manager to do just that.
"He was and remains a hugely-popular figure at the club and everyone here looks forward to working with him again."
Mourinho will address the English press at 1.30 pm next Monday, June 10, and former Blues forward Tony Cascarino is eager to see him back in front of the English media.
He added: "Jose Mourinho's first press conference is going to be like seeing the Rolling Stones or The Beatles! But let's put it in perspective, Mourinho is a very talented manager. There is no doubt about that. You only have to look at his previous clubs."
Sky Sports 1HD will screen a number of programmes from 10pm on Monday night to celebrate Jose Mourinho's return to Chelsea, including Football's Greatest Managers, highlights of the Blues' first Premier League title win and their League Cup triumph over Liverpool. Click here to watch online.