Premier League: Jose Mourinho is planning a long second stint at Chelsea
Jose Mourinho insists that he is planning to stay at Chelsea second time around for a 'long time'.
By Graeme Bailey - Tweet me: @graemebailey
Last Updated: 06/06/13 9:10am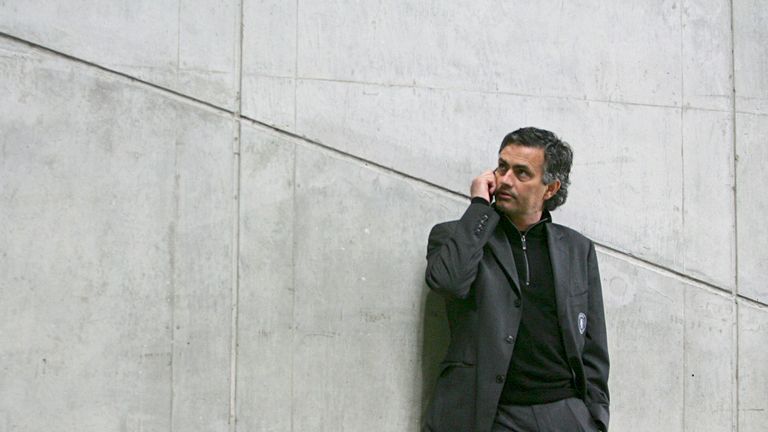 Mourinho was speaking after Michael Ballack's testimonial, to mark the end of his career - which included a stint under the Portuguese manager at Stamford Bridge.
Mourinho was asked about if he would ever consider a move to the Bundesliga, but he admits that he is not thinking about leaving Chelsea for a 'long time' after completing his move back to west London earlier this week.
"I am so happy to be back, I am where I want to be and where people really want me to be," the former Real Madrid chief said on Sky Sports News.
"I have a big emotional connection with the club, I have got a very young team in my hands with a lot of very young talented players, it's time to develop the players.
"The players need stability and I am in Chelsea to give that stability to the team and players, and I am going to stay a long time."
As Mourinho was in Germany, he was asked about the transfer of Bayer Leverkusen's Andre Schurrle - amid reports that he has given the green-light for the move, which was agreed before his return to the club.
But the Chelsea boss said: "There is no time for that, this is the time for Mikey - he is the man for today, Andre has to wait."
Mourinho did deny claims that Cristiano Ronaldo was one of the reasons behind his departure from Real, saying: "He scored 50 goals a season, how can he be the reason for me leaving."
Ballack himself has backed Mourinho's return and said: "To have Jose Mourinho at Chelsea is a fantastic decision.
"He is a great character and a great coach. Even at his age he has had unbelievable success.
"To go back to a club like this, it is never a bad decision. Chelsea are a fantastic club - they won the Champions League last year and this year the Europa League.
"The money will be right for him, the fans love him, he has a lot of English supporters, even if they don't support Chelsea.
"Altogether it is a great package for him."
Chelsea fans will expect Mourinho's return to be accompanied by a spending spree as owner Roman Abramovich arms his manager with the funds to reclaim a title they last won in 2010 when Carlo Ancelotti was at the helm.
Forward reinforcements top the shopping list, with Schurrle, Manchester City's Edin Dzeko and Fiorentina striker Stevan Jovetic reported to be on Mourinho's radar.
But the 50-year-old insists that drawing the best from his existing squad will be his most pressing concern and refuses to prioritise any silverware.
"We have to improve the team, but when I say improve the team people are already thinking about how many millions Chelsea will spend. When I say improve the team, I mean through work," he said.
"My work has to improve players and improve the team. If I don't do that I am not happy with myself.
"If after that we can improve the team by buying a couple of players it is fantastic, but I have to improve the team and the players with my work.
"The priority is to improve. In the last two years we have struggled in the Premier League.
"If Chelsea didn't win the Champions League then the club wouldn't have been in the competition this year. This year we had to fight until the last match to qualify.
"We must improve individually, improve collectively and improve the structure of the club around the football team, and try to win the next match.
"Which one is the next match? The Premier League? Let's go for the Premier League. If the next match is the FA Cup, let's go for the FA Cup.
"It's difficult for me to say something is the priority. The priority is to work hard, work professionally and make the team better."