Premier League: Jose Mourinho says John Terry stays club captain
Jose Mourinho says John Terry will remain club captain at Chelsea but warned the defender he must fight for his place.
Last Updated: 11/06/13 9:39am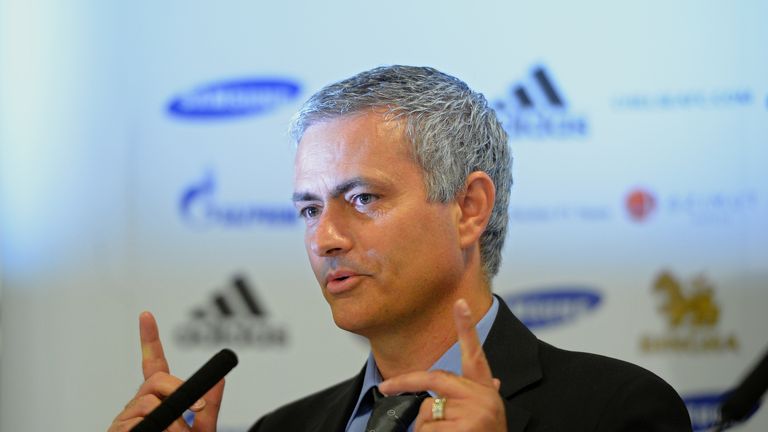 After five years away in Italy and Spain, Mourinho was unveiled at Stamford Bridge for the second time on Monday afternoon amid a blaze of flashbulbs.
The 50-year-old refused to pass comment on interim boss Rafa Benitez's tenure but admitted he was keen to re-establish club captain Terry - marginalised at times last term by the Spaniard - as a key man.
"From me, (there will be) not one word about Benitez's decisions, on John or any other player," he said.
"What I can say is about the future. I'll meet John in the first week of July and try to get the best out of him.
"I know what he can give, let's try to make him again a very important player which he couldn't be last season.
"Last time (I was manager), John was the captain by a club decision because he was born in this club, also, his personality on the pitch.
"I did a simple consultation with the players, and everyone agreed on that. At this moment, when you say 'my captain', it's not the real world. He is more Chelsea captain. 'My captain' is the board's captain, the fans' captain. I don't think the manager's captain is the correct word.
"John is the club captain. I am more than happy with that, so are the fans, so I think he has to be the club captain.
"With the armband? Only if he plays. If he isn't in the starting XI, he won't have the armband."
Mourinho will also be reunited with long-serving duo Frank Lampard and Ashley Cole but insisted there would be no preferential treatment on his second coming.
"Even the players I worked with and knew in every aspect, they changed," the Portugese boss said. "Time changes players. Even that group, I need to meet again.
"It is important to tell you that there are no privileges for them. They know that already because they know my nature as a manager. They don't have an advantage in relation to other people."
As questions turned to next season's plans, Mourinho hinted that Belgian duo Romelu Lukaku and Kevin de Bruyne, loaned last season to West Brom and Bayer Leverkusen, respectively, would have the chance to stake a claim in his new side.
"First of all I want to meet (Lukaku and De Bruyne)," he said. "I think it is fair that the players are the first ones to know about their future.
"But I can say that Chelsea invested a lot in them in the past and it is my job to try to extract the best from that investment. Both of them are ready to come and be part of our squad."
After the press conference Sky Bet made Mourinho's side 4/5 to win a major trophy next season while quoting him at 1/5 to remain in charge for the entire 2013/14 campaign.
Chris Spicer of Sky Bet said: "There's a real sense among Chelsea supporters that Mourinho has unfinished business and we go 4/1 he picks up where he left off by going unbeaten at home in the league next term.
"He's already vowed to revive the fortunes of club captain John Terry, who is currently 4/1 to join Monaco after losing his place last season, and we offer 2/1 that the Blues concede the fewest goals in next season's Premier League."