Jose Mourinho says winning Premier League title in first season at Chelsea is tough
Jose Mourinho is not setting himself a target to win the Premier League title in his first season back with Chelsea.
Last Updated: 11/06/13 3:49pm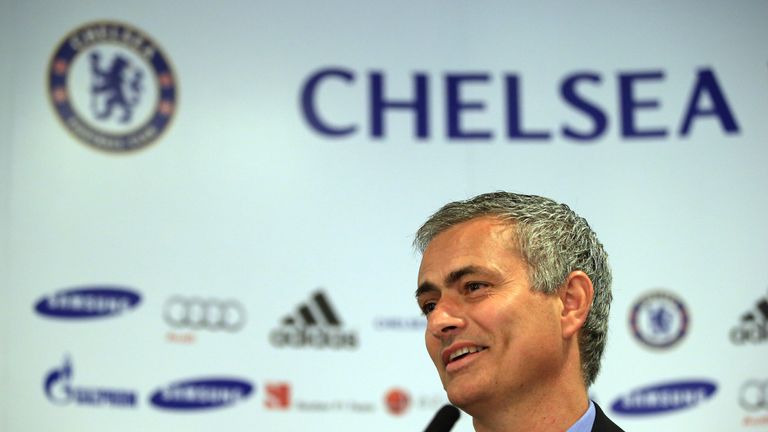 Mourinho was officially unveiled at Stamford Bridge on Monday but he feels it will be tough to match his impact when he first joined the Blues, leading them to their first title in 50 years in 2005.
But he says there is a dual target for 2013-14; to be competitive in the race for the title and keep an eye on the direction the club is going to go, especially in developing younger players like Romelu Lukaku and Kevin De Bruyne
"I don't need anybody to push me to have that ambition, I have enough motivation and desire to do it myself," said Mourinho.
"We don't do it (win the Premier League next season), but (if we) show an evolution in the season, show we are moving in the right direction, (then) I think we will be champions in the second season and it is not a drama.
"It has to be analysed in the proper way, part of a process of formation, that 75 per cent of the guys will be better next season.
"When you have this profile, you can't think the best will come next year. It has to come in two, three, four, five, six years' time. We are speaking about boys with 10 years to play football.
"These 'kids' - and I say that respectfully - have big potential and big space for improvement. They've not reached their best level yet.
"The stability the owner and I can give them is related to work - in the methods, the coaching philosophy, in my leadership, in everything that can help them improve. When you mix with them those who are over 30, we will keep a balance and try to go on.
"It is different (now). In terms of quality, I don't think it's better, to be fair, but in terms of competitiveness, it is harder. In our (last) time, there were three teams. Who is first, who is second, who is third? But everyone knew it would be between us, United and Arsenal.
"In this moment, (Manchester) City have appeared with this fantastic economical power that helps them to go up so fast as they did.
"Tottenham had a very good period with Harry (Redknapp), reaching the fourth spot, playing Champions League, going up and up and up. Andre (Villas-Boas), last year, did a good job by keeping the team at that level and I think they have conditions to fight for the Premier League (title), not just a Champions League spot.
"And Liverpool, I know Brendan (Rodgers) and I know he can do it. I don't speak so much with him now on the phone. Last year I did, as friends, and I know his ideas, his project, and Liverpool will go up too.
"So there are six teams. Who's going to be first, who's going to be sixth? I don't know, but for sure it's the most important league in Europe and we'll try to raise it more."