Transfer news: Petr Cech can see Wayne Rooney in a Chelsea shirt
Chelsea keeper Petr Cech would welcome Wayne Rooney to Stamford Bridge if the Manchester United ace decided to switch.
Last Updated: 04/07/13 8:07am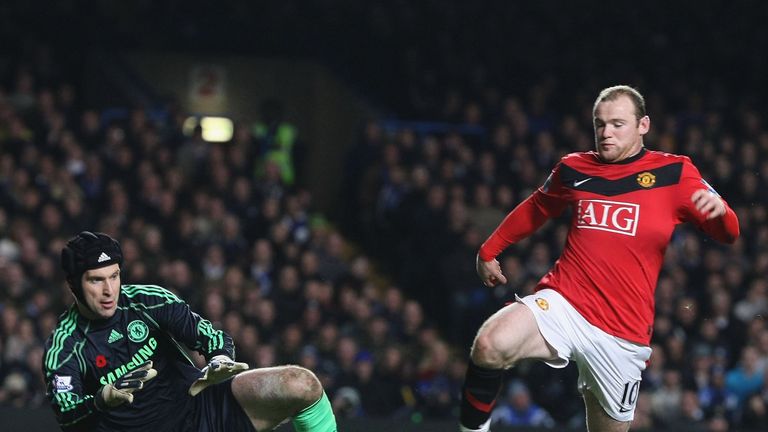 Rooney is being linked with the Blues, Arsenal and Paris St Germain after former United boss Sir Alex Ferguson claimed after his last home game in charge in May that the striker had asked to leave Old Trafford for a second time.
Cech believes Rooney is a 'fantastic player' and would be a quality addition to the squad if new Chelsea boss Jose Mourinho wanted him in his plans.
He told Sky Sports News: "I could see him in a Chelsea shirt. Players can change shirts and obviously he had a fantastic career with Manchester United and sometimes players need new challenges.
"Sometimes the consequences are the way that you are looking for the new challenge and change of the shirt.
"So if that happened, obviously he is a fantastic player and he will be welcome to our squad but now we are only in the moment of speculations about it so we will see what this week will bring.
"He's a great player and you always want to see great players in your team."
Edinson Cavani has also been linked to the Blues. Regarding Chelsea signing the Uruguayan, Cech added: "I could see anybody in a Chelsea shirt, it depends if Jose Mourinho wants to see those players in the Chelsea shirt.
"So I believe that he has his own ideas about the team, he knows exactly what he wants in the team. And as I said, now the transfer window opens and we will see what will be the movement in our squad in reality."
Cech believes the Blues will be challenging on all fronts under their returning boss.
He told The Sun: "In the last two years we had a lot of changes in the team, we changed a lot of managers, and the players we brought in are quite young.
"Among these players there is the experience of winning the Premier League, Europa League, FA Cup and Champions League.
"We will have more improved players than they were two years ago. They have better experience and they know how to win things.
"Now we've got a manager who has won it all at a variety of clubs. Overall we have a good potential to challenge everyone and I believe we can do it."