David Moyes tired of talking about Wayne Rooney's future at Manchester United
David Moyes is getting tired talking about Wayne Rooney and has also reacted to reports he wants Thiago Alcantara.
Last Updated: 12/07/13 6:07pm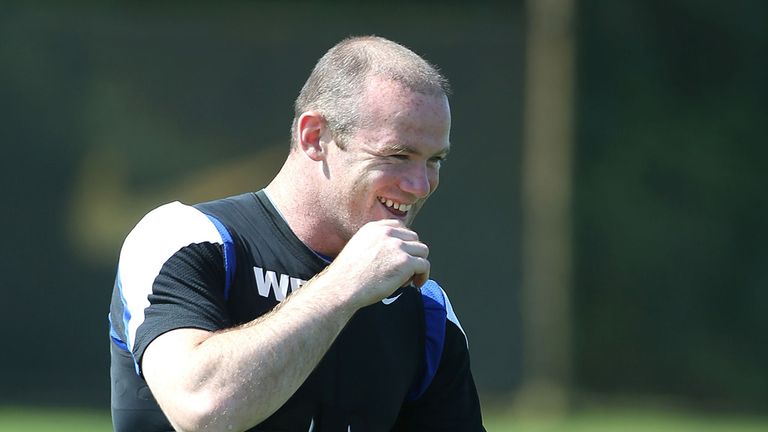 Rooney has been forced to fly home from United's tour of Asia and Australia due to a hamstring injury, which is now likely to sideline the England international for up to three weeks.
He has been strongly linked with a move away from Old Trafford after former manager Sir Alex Ferguson claimed that Rooney asked to leave United towards the end of last season.
Reports have suggested Chelsea feel they are in pole position to sign Rooney, but Moyes remains determined to keep the player with the Premier League champions.
"Unless I was speaking double Dutch, I've said that Wayne Rooney is not for sale," said Moyes at a press conference in Bangkok.
"I have answered lots of questions about Wayne and it's getting repetitive. I don't want to talk about it all day.
"I have really covered all the things on Wayne.
"You mustn't forget Manchester United is about a team, not any one individual.
"In lots of ways I am only interested in the team and some of the questions are reverting back to stuff I covered last week."
Earlier on Friday, when Jose Mourinho was asked about any interest in signing Rooney, the Chelsea manager said: "I cannot speak about players from other teams. But you know me...
"I always say what I think and he is a player I like very much. I cannot say more than that.
"Being fast and direct, I like him very much. But he is a Manchester United player."
When asked if Mourinho was being mischievous, Moyes replied: "I don't think so. People are entitled to talk about good players.
"I am being asked plenty about Wayne so I am sure Jose will be getting asked about lots of players as well.
"It is hard to keep repeating myself - but I will do. Wayne is a Manchester United player and will remain that."
Moyes is also busy trying to bring in new signings and was non-committal on whether he wanted to sign Alcantara, with the Barcelona midfielder now seemingly poised for a reunion with Pep Guardiola at Bayern Munich.
Asked about the player, Moyes commented: "I never said he was a target.
"We're on with targets that we are chasing at this moment in time. There are people we are actively chasing and, at this moment in time, we're happy with how things are going."
Meanwhile, Moyes also confirmed that Rooney's hamstring injury will keep him out for "two to three weeks" and not a month as first thought.
"We didn't expect it," he said. "We wouldn't have brought him if we had known. But once we had it checked, what would be the point in taking a risk?
"We could have kept him and taken him to all the other places but he wouldn't have played the games. We thought for the benefit of the player, the best thing to do was get him back right away and let him get on with his rehabilitation.
"We will keep his work up. With a hamstring injury you can do lots of work in the swimming pool and some work in the gym.
"And when we return from this tour we still have the game in Stockholm, the Community Shield and Rio (Ferdinand)'s testimonial as well.
"It is really important we get players fit for those games and Wayne should only be out for two or three weeks.
"He was in really good shape. He came back in a good fighting weight."