Jose Mourinho insists he is happy with Chelsea squad
Jose Mourinho has insisted that he is the 'Happy One' as he reflected on his current Chelsea squad.
Last Updated: 16/07/13 4:29pm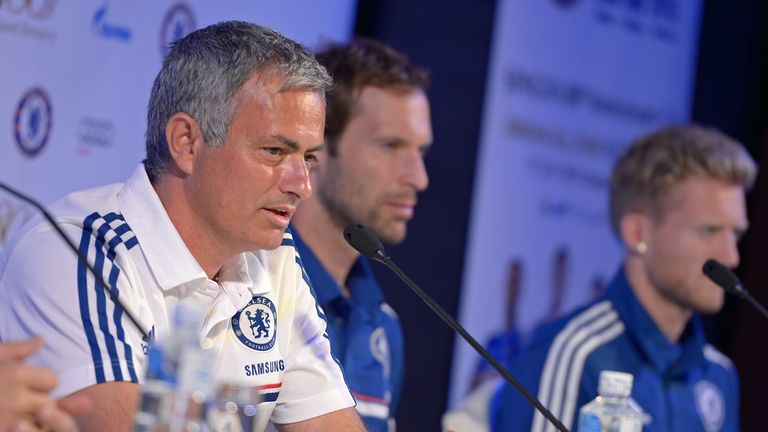 After one week of training in his second spell as Chelsea boss, Mourinho has hailed his players' work ethic and played down links with Wayne Rooney and Christian Benteke.
"After a week I'm still the 'Happy One' because my boys work fantastically," he said.
"At this moment I'm so happy with the people I have here that I'm not thinking about other players.
"If I have to think about some players, I have to think about my players who are on holiday period and still have to join us on July 28.
"The first part of my job is to get the best from these players, try to push the young boys to the levels they can reach, and to try to make a real team. After that, we will see.
"This is a period where the big clubs, and the managers of the big clubs, are connected with every player.
"Until August 31, that's the old story in football. Rumours and rumours and rumours. At the end of the day, after so many rumours, some things come true."
The 'Special One', who returned to Stamford Bridge last month after a six-year absence, is preparing his team for a game against the Singha All-Stars in Bangkok on Wednesday.
"Winning is part of a culture: if you can do that even in friendly matches, we have to do it," he added.
"I don't like to lose, the players don't like to lose. They are competing fantastically in training sessions, and against several players, so my boys will try and get a result.
"To lose is not a drama. It doesn't change anything in the teams. But it's not nice. We don't like that. It's not the most important thing to get a result, but we want to win."
Having won titles - and plaudits - in Italy and Spain since his first spell at Stamford Bridge, Mourinho maintains winning a third league title with Chelsea represents his toughest assignment.
"It's a championship in European football where we have more candidates to win, so because of that it's more difficult to win," he added.
"Both teams in Manchester are top teams, Liverpool are coming up, Tottenham are a fantastic team with some new players for sure, Arsenal the same.
"But we want to be there and we'll be fighting for that."