Transfer news: Chelsea confirm bid for Manchester United's Wayne Rooney
Chelsea have confirmed that they have put in a transfer bid for unsettled Manchester United forward Wayne Rooney.
Last Updated: 17/07/13 5:36pm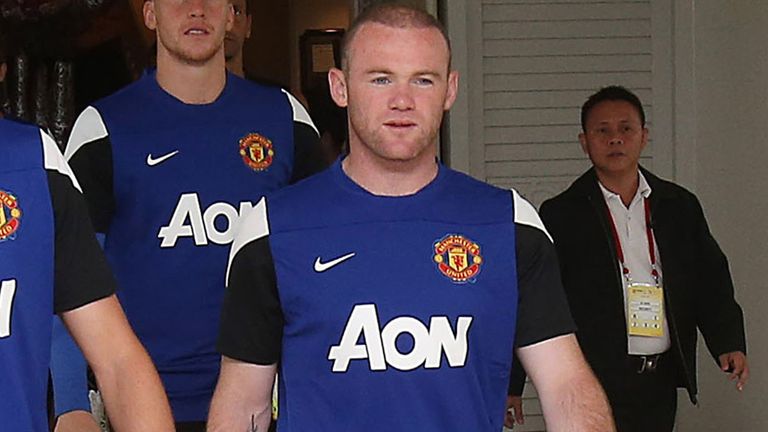 The bid was rejected and the London club have categorically denied the rumour that Juan Mata or David Luiz were offered to United in part-exchange for Rooney.
Their statement read: "Chelsea Football Club can confirm that yesterday it made a written offer to Manchester United for the transfer of Wayne Rooney.
"Although the terms of the offer are confidential, for avoidance of doubt and contrary to what is currently being briefed to the press in Sydney, the proposed purchase price does not include the transfer or loan of any players from Chelsea to Manchester United."
The reference to the Sydney press briefings appears to be aimed at United, who are currently in the Australian city as their pre-season tour continues.
Speaking from Bangkok, where Chelsea are currently based, Sky Sports reporter Ian Bolton said: "Behind the scenes, it is fair to say there is a fair amount of, if not anger, then certainly displeasure.
"There is a feeling that it's an attempt by Manchester United to unsettle two key players at Chelsea. Two players they see very much as part of their plans for the future.
"Both players are currently on holiday and Chelsea did not want them getting texts and various other messages, then thinking they were part of any deal which would involve Wayne Rooney moving to Stamford Bridge."
Mourinho admiration
Chelsea manager Jose Mourinho made his admiration for Rooney public last week, saying: "He is a player I like very much but I can say no more than that. Being fast and direct, I like that, but he's a Manchester United player."
However, new Manchester United boss David Moyes has consistently stated that he does not want to sell the 27-year-old England international.
Responding to Mourinho's remarks, he said: "Unless I was speaking Double Dutch last week, we said Wayne Rooney is not for sale.
"It's hard to keep repeating myself but I will. Wayne is a Manchester United player and it will remain that way."
Angry and confused
However, Chelsea's bid for Rooney came in light of the news that the player is 'angry and confused' about further remarks made by Moyes which could be seen as implying that he is not a first-choice player at United.
Moyes said: "Overall, my thought on Wayne is that if, for any reason, we had an injury to Robin van Persie, we are going to need him and I want as many options as possible."
Rooney, who has flown home from United's pre-season tour because of a hamstring injury, has two years left on his United contract and is also reportedly unhappy that chief executive Ed Woodward has publicly ruled out negotiating an extension.
"No contract renewals are being discussed," Woodward said. "I am not sitting down with any player on an extension and there is no trigger date in the diary.
"Would we be afraid to run a contract down? Of course not."
Former United centre-half Gordon McQueen believes Rooney will now leave Old Trafford, but thinks it would be a big mistake to allow him to join a Premier League rival like Chelsea or Manchester City.
"It would be a big move for Wayne Rooney and one that I hope doesn't happen," McQueen told Sky Sports News.
"I hope he stays with Manchester United. Unfortunately it seems to me that the player has got his mind made up that he wants to leave Old Trafford and it looks like to me now that they will probably let him go.
"I think they would prefer him to go to one of the teams in Europe that can afford him - Paris St Germain or Monaco - you certainly wouldn't want him to go to Chelsea or Man City!
"Man Utd did something similar last season and, in my opinion, it won them the league. That was getting a terrific goalscorer from one of their main rivals, Robin van Persie from Arsenal.
"I think it would enhance Chelsea's chances of winning the Premier League if they took Wayne Rooney from Manchester United - just look at the goals he has scored for Man United over the last nine years. They (United) would find that difficult to replace."
Rooney has been backed into odds on to make the move to Stamford Bridge. Sky Bet have cut the odds on the striker moving to Chelsea from 11/2 to 1/2, while the odds on him remaining at Manchester United have drifted out to 13/8
Sky Bet Football Trader Chris Spicer said: "We were convinced that Rooney would not be allowed to leave after Moyes laid down his initial stance, but his recent comments are somewhat confusing.
"Relations are starting to appear irreparable and we have now installed Chelsea as the favourites for the Premier League at 9/4, which would shorten significantly if they secure Rooney's services."