Jose Mourinho planning for an extended stay at Chelsea
Jose Mourinho is looking to bring stability back to Chelsea, but appreciates that he needs to deliver major silverware.
Last Updated: 18/08/13 11:10am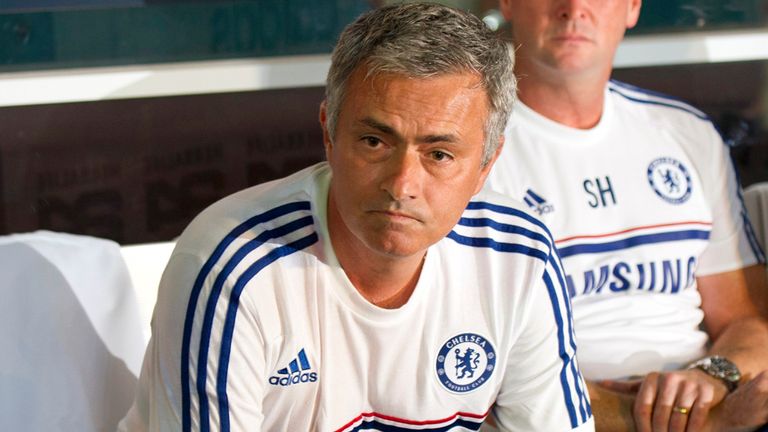 The Blues have turned to a familiar face to help get them back on track, having gone through eight coaches in the six years since Mourinho's previous tenure at Stamford Bridge came to a close.
The Portuguese tactician has made no secret of his affection for the club and boasts an enviable managerial CV which has seen him enjoy domestic success wherever he has been.
Chelsea hope he can bring the good times back to west London, and Mourinho says he will stick around for as long as he is wanted.
He is, however, aware that a failure to replicate the success he enjoyed first time around will see him ushered through the exits by demanding owner Roman Abramovich.
Mourinho said: "I think the trophies will arrive naturally - based on stability - and, of course, it's all about winning trophies, because my DNA hasn't changed.
"I am not the sort of man to be in a club for three or four years and not be winning a trophy. And in that case I would not need the club to say goodbye - I'd be the first.
"The club is ready for stability and so am I. Why stability this time? Because I spoke with the club before I came back.
"A decision is not made in two seconds - you have to listen to the club's ideas. You have to prepare young players from the academy, with the next generation coming through, like Nathaniel Chalobah, who will probably make it into the first-team squad next season.
"So I'm happy to stay while the club is happy and I am happy. I do not see myself in say Spain or Italy again as a club coach. In England, my big connection is with this club.
"At the end of my contract - which is quite a long one - I will try for the club to be happy with me so we both want to keep together."