Premier League: Chelsea boss Jose Mourinho backs Samuel Eto'o to make positive impact
Jose Mourinho believes the addition of Samuel Eto'o gives his Chelsea squad the perfect blend of youth and experience.
Last Updated: 13/09/13 6:51pm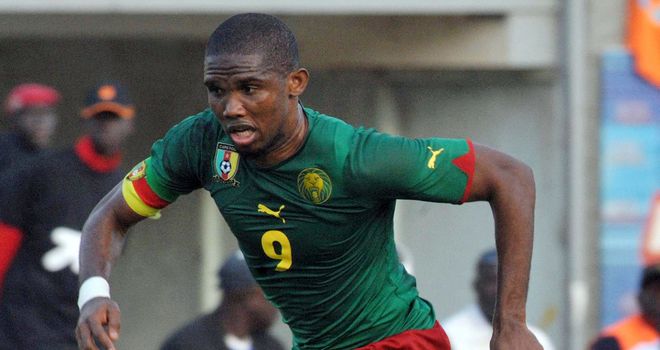 The 32-year-old striker, who moved to Stamford Bridge from Anzhi Makhachkala, is likely to start on the bench for Saturday's Premier League game against Everton.
Mourinho said: "He will be selected and when you are selected and you are a striker you play, you start or finish the game, but normally my attacking players when selected play because it is the area where I make more changes during the match.
"So normally he will play his first minutes for Chelsea in the Premier League.
"He is a player adapted to the style of play we want in our team which is a bit contradictory to the general style and philosophy in the Premier League.
"We are not anymore a physical, direct team. We want to use the qualities of our attacking players in a different way.
"His movement is very intelligent. He knows exactly the kind of movement he has to do to give continuity to the attacking game. He has a natural appetite for goals and he will score a few goals for us and he will give us experience.
"Everybody is very young, for example against Bayern Munich (in the Super Cup), Andre Schurrle, Oscar and Eden Hazard all were all under 22. So Samuel is a player to add experience to a young part of the pitch."
Eto'o will compete with Fernando Torres and Demba Ba but Mourinho insists all three will have important roles to play.
"If sometimes I have to risk one point to get three I do it almost every time," Mourinho added.
"I like to have strikers on the bench and I like to finish matches with two of them. That's why this group of three is fundamental. It is very rare I don't make changes."
Mourinho also insisted that Juan Mata, who has been left on the bench recently, has a future at Chelsea.
He said: "He is in the same plans as all the others. He's a player I like very much.
"He's a player I trust a lot and who will fight for his position like everyone else, sometimes starts, sometimes on the bench, sometimes maybe he has not to be selected like everyone else."