Petr Cech feels right call made on Chelsea equaliser against Cardiff
Petr Cech feels Anthony Taylor made the right decision to allow Chelsea's equaliser in the 4-1 win over Cardiff.
Last Updated: 20/10/13 4:03pm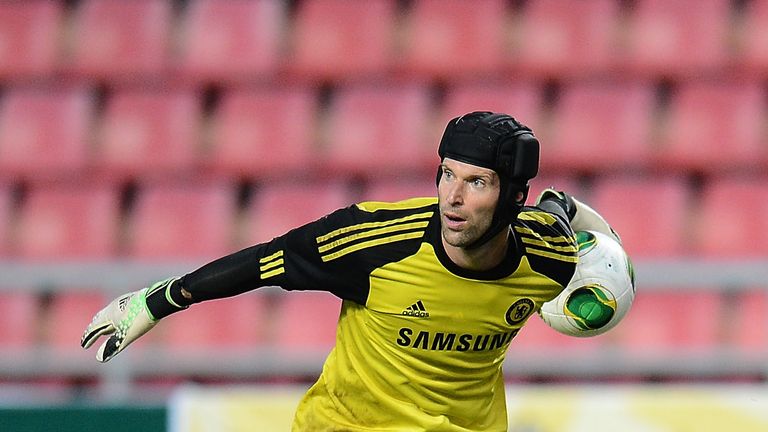 Visiting players were furious Eden Hazard's goal was allowed to stand after Samuel Eto'o nicked in and took the ball from keeper David Marshall as he was bouncing it.
The laws of the game strictly suggest the goal should not have been given but Cech was not willing to side with his fellow goalkeeper.
"It's always a difficult question, when you lose control or not lose control," Cech said. "What I know is that if you throw the ball to kick it out, nobody can touch you because it counts as one motion.
"In terms of bouncing it's not one motion, so it's totally up to the referee to decide whether the goalkeeper had control of the ball or not.
"The referee had the perfect view of it, he was very close and he decided to give it.
"In this case you have to go with the referee, It's an unusual situation, but as long as the referee is happy with it, the goal is in.
"As a goalkeeper you make sure when you have control of the ball, you look around and make sure nobody can touch it.
"When you bounce the ball, when you don't have the ball in your hands, you don't have full control and the referee made the decision he felt was correct."
Cech was playing his 300th Premier League and he hopes it will not be his last landmark game at Stamford Bridge.
"When I joined the club I wanted to become the number one goalkeeper," the 31-year-old said. "To play 300 Premier League games is a great honour.
"If I keep my standards and level of the game the same I will have more chances to play and to get more games. It's up to me."