Jurgen Klopp turned down interest from English clubs this summer
Jurgen Klopp is loving life at Borussia Dortmund after claiming he turned down interest from English clubs.
Last Updated: 20/10/13 3:34pm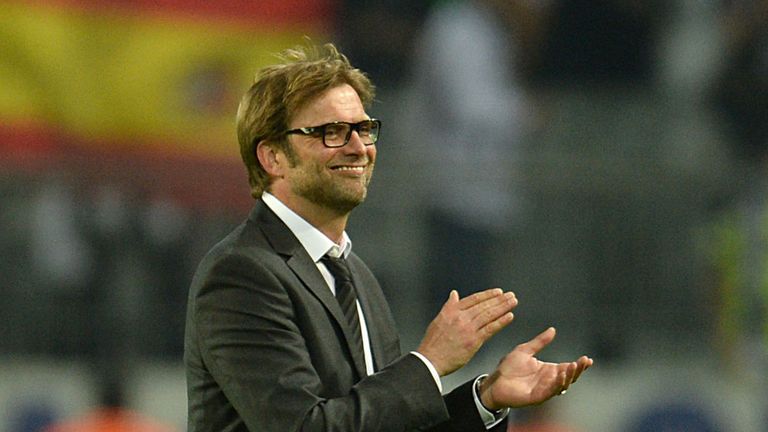 The 46-year-old has led his side to the German title twice in his five years in charge at Signal Iduna Park, as well as last year's UEFA Champions League final.
Klopp was subsequently linked with a number of vacancies in the Premier League - including Manchester City and Chelsea - but he opted to stay at his present club.
He told The Sun: "There were some English clubs that called and wanted to speak with me. But there was no reason to talk.
"It's only hard to understand if you always think, 'I can go to a bigger club'.
"I'm sure you could earn much more money at one or the other English clubs or at a Chinese or Russian club, but it's not the most important thing.
"If somebody told me two years ago, 'Some time they will you call you', I would have said, 'Impossible'. And then they called and it was nothing.
"In life you have to be at the right place at the right moment. And I am at the right place at the right moment."
Everything fits
Klopp has lost several of his players to other clubs, including Shinji Kagawa to Manchester United and Mario Gotze to Bayern Munich, but he does not want to follow them out of the door.
He added: "Players try to fulfil their dreams. I couldn't have dreams when I was their age. My dream was not to fall down on the pitch.
"I am 46 and have been coaching at this level for four years. I didn't start out thinking this team could be champions.
"I didn't think, 'Oh, when we are champions where can I go?' If you think about other clubs, you also have to think about what you have here. And it could not be much better anywhere else.
"It's not possible. Because at this moment, in this stadium, with this managing director (Hans-Joachim Watzke) and this technical director (Michael Zorc), everything fits."