Premier League: Jose Mourinho says Chelsea 'beat the best' after win over Manchester City
Jose Mourinho stated after the 2-1 win over Man City that Chelsea had 'beaten the best team in the Premier League'.
Last Updated: 28/10/13 8:01am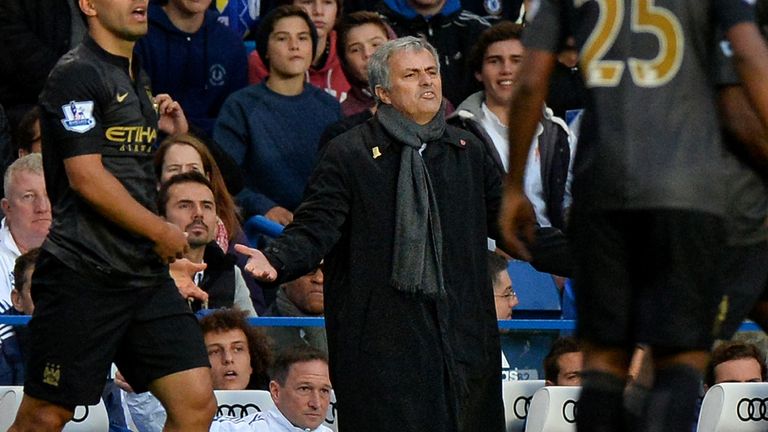 Chelsea had the better of the first half at Stamford Bridge and went into the interval with a 1-0 lead after Torres had made amends for an earlier miss to set up Andre Schurrle.
Sergio Aguero equalised as City responded strongly in the second half, but it was the Blues who emerged with all three points after a defensive mix-up between Joe Hart and Matija Nastasic allowed Torres to find the net.
And Mourinho was thrilled to beat a team he regards as Chelsea's main rivals for the Premier League title.
"The first half was our half. We were better, much better," Mourinho told Sky Sports.
"It is difficult to be much better than a fantastic team. We should have scored more goals.
"The second half they start very strong. They score a great goal and after that the game was open.
"It was for both sides. In that period you have the little bit of luck you need to win these matches.
"We had this lucky situation, although you could say a belief situation because Fernando had the belief (to chase a lost cause).
"We won a game that is very important for us. I think we beat the best team in the Premier League."
Mourinho also praised Torres' performance, claiming the striker had showed his character after spurning an early chance.
"Everything that happened (with Torres) came after he missed the easy chance," he said.
"(It was) amazing. When you are a player and you make a mistake you are finished for the game.
"After that you saw the best Fernando. He won the first goal and worked unbelievably for the team."