Chelsea boss Jose Mourinho 'meant no disrespect' by celebrating with crowd
Jose Mourinho was on the defensive after he and Manchester City boss Manuel Pellegrini failed to shake hands.
Last Updated: 28/10/13 10:00am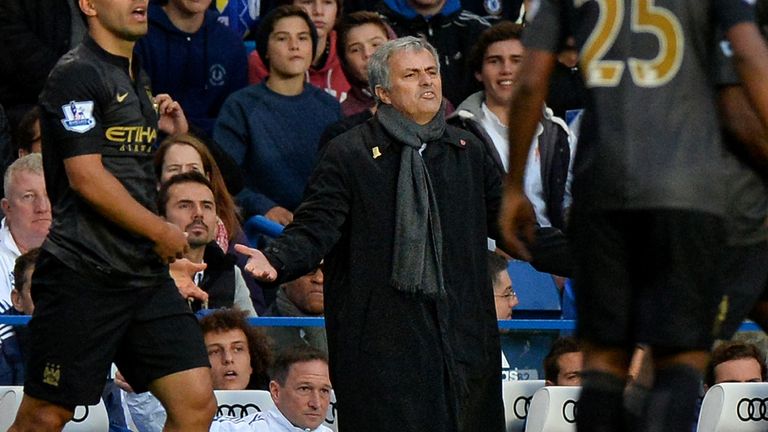 Mourinho celebrated Fernando Torres' late winner - and the extension of his unbeaten Premier League run at Stamford Bridge to 65 games - wildly, leaping into the crowd where he finished the previous home match with Cardiff following his touchline dismissal.
The Portuguese entered the section of support behind the away dugout, where he says his son has a season ticket.
He insists that he meant no offence to City or Pellegrini, with whom he already had a tetchy relationship following their time in Spain.
He said: "Chelsea is guilty because I want to buy a season ticket for my son and they give a season ticket for my son behind the opponents' dugout. They have to give my kid tickets behind my dugout. I promise that I went for him. But this is the drama of the last minute.
"Last year I beat Man City in the last minute in Madrid, I slid on my knees, I destroyed my trousers. I lost in the last minute against Bayern Munich, somebody put a knife in my back. This is emotion of the game. If they believe that my son is there, great.
"If they don't believe, I apologise if they feel that I did something wrong."
Pellegrini was incensed and refused to shake hands with Mourinho at the final whistle.
Mourinho had no complaints. "I don't feel it is a lack of respect," he said.
"If he was sad because of the result. I understand. If he was sad thinking that I was doing something wrong by going to celebrate there, I accept that too. No problem."
Pellegrini said: "I didn't shake hands. I didn't want to shake hands. I don't expect anything different from him. It's normal."