Chelsea star Frank Lampard says Jose Mourinho is bringing the winning mentality back
Frank Lampard says Chelsea have now found the consistency needed to claim their first Premier League title since 2010.
Last Updated: 30/10/13 2:26pm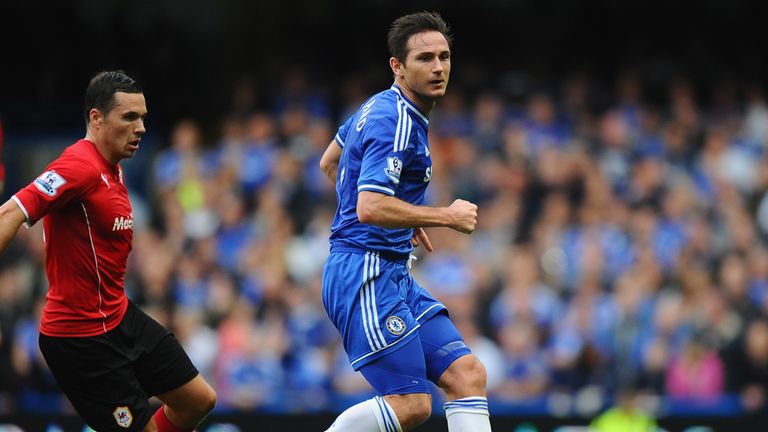 The Blues have now won six straight matches, which is their best sequence of results in over four years.
Mourinho's side are progressing well in the Champions League and they moved up to second in the league standings at the weekend thanks to a 2-1 victory against title rivals Manchester City.
They followed that up with a convincing win at Arsenal on Tuesday which helped them ease into the quarter-finals of the Capital One Cup.
Despite a shaky start to Mourinho's second spell at Stamford Bridge, midfield star Lampard has called on the club to maintain their current form in order to heap pressure on the competition.
"When you look at our squad, one Premier League title in seven years just doesn't feel right for Chelsea," Lampard told Sky Sports.
"But there is a real feeling that things are fitting into place under Jose Mourinho. We had a mentality from Jose's first time at the club that coming second was a disappointing year. That's the way we regarded it.
"The last two years have been the worst two in recent memory in terms of league performance although obviously we've done really well in Europe.
"But coming sixth and third domestically doesn't feel good enough. For those of us who are still here from Jose's first time in charge, we know what he is like week in and week out, and you can sense he is bringing that winning mentality back.
"It's what we need and it's for us, the players, to now show the consistency, which is what is happening."
Competition from clubs
Lampard, 35, also admitted there is more competition from a number of clubs than at any other time in the Premier League era due to the amount of money in the game.
"The competition is getting tougher, without a doubt," said the England international. "When we won the league for first time, in 2005, Manchester United were the biggest threat. Arsenal were there as well, but that was it.
"Now, the challenge of Manchester City is there, and if you look at it this year, you wonder if Liverpool or Tottenham could be there at the end. Even Southampton have spent £30million, so it has become harder.
"But I think that it is a good thing for the fans to see. Nobody wants it to be a one horse race unless you are the horse.
"And of course, we see ourselves as real contenders - I think with our squad you can't deny that.
"Consistency is everything though and there is the feeling that we have that now. It's very exciting."
Frankie's Magic Football: Frankie vs The Cowboy's Crew by Frank Lampard is published by Little, Brown Books for Young Readers, £4.99.