Andre Villas-Boas claims his Chelsea drama outweighs that of David Moyes at Man Utd
Andre Villas-Boas dismissed talk of turmoil at Old Trafford, claiming the drama he endured as Chelsea boss was greater.
Last Updated: 02/11/13 1:23pm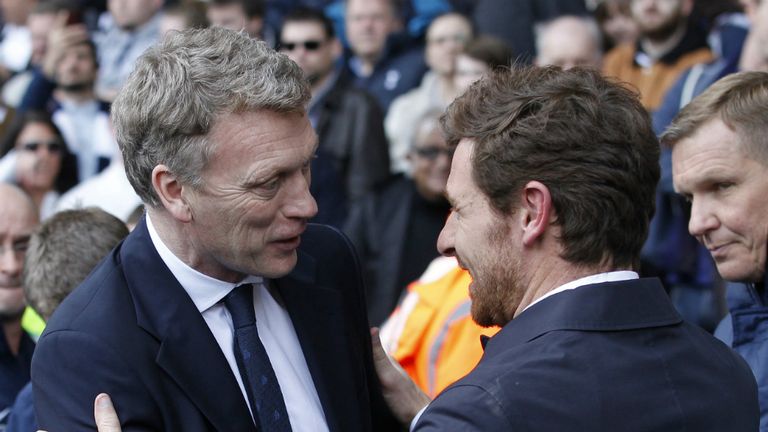 After taking over from Sir Alex Ferguson in the summer, David Moyes has come under intense scrutiny, with the defending champions registering just 14 points from their opening nine Premier League fixtures.
United's recent upturn has seen them win two and draw one in their last three but the Red Devils are still languishing in eighth.
However Villas-Boas, who felt similar pressures when he took charge of Chelsea in 2011, insists his 257-day reign at Stamford Bridge eclipses Moyes' present concerns.
"For the champions of England to sit in their position I don't think there has been a lot of drama, to be fair," he said.
"I was involved in another club before and there was much more drama surrounding my results than Man United's results."
United suffered defeat at the hands of Manchester City, Liverpool and West Brom early in the campaign, but Tottenham manager Villas-Boas expects Moyes will soon be snapping at his heels.
"Manchester United have played most of their difficult fixtures, so things are looking a bit more positive. They'll get back eventually," the Portuguese manager added.
"They look to be coming back strong and achieving the results they need. I would suppose they would join, eventually, the rest of the teams.
"The distance is nothing for the Premier League so at the end of the season I would say they will be there competing for that first place."
Villas-Boas visits Moyes' former club Everton on Sunday hoping to build on the momentum acquired through back-to-back wins over Hull City.
Tottenham were in the midst of a purple patch last term when they visited Goodison Park and all looked to be going well when the Londoners took the lead halfway through the second half.
Everton hit back with two late goals to steal the victory, however, and with those three points contributing to costing Tottenham a UEFA Champions League spot, Villas-Boas understands the importance of this weekend's clash.
"We've spoken about last year's result as the deciding factor for us not making it into the Champions League because everything changed quite dramatically," he said.
"It serves us as a lesson to be kept aware of and it's not something we want to see again."