Champions League: Jose Mourinho says Eden Hazard forgot Chelsea training time
Jose Mourinho says Eden Hazard's poor timekeeping resulted in him being dropped for Chelsea's home win over Schalke.
Last Updated: 07/11/13 12:22pm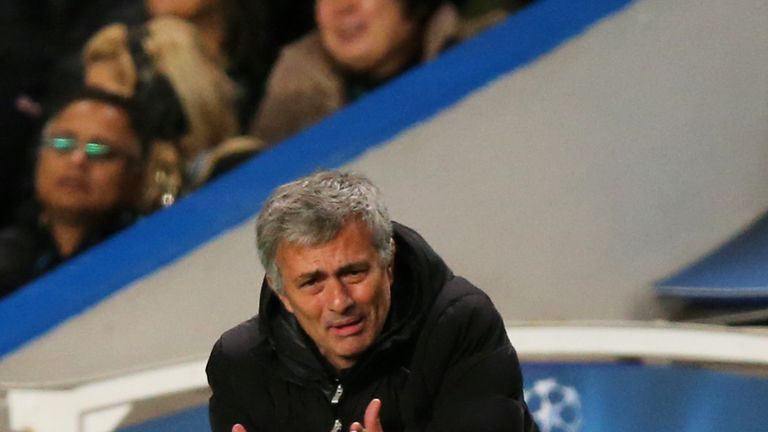 Before kick-off in Wednesday night's Champions League Group E clash at Stamford Bridge, Mourinho side-stepped a question on why Belgium winger Hazard was not part of the matchday 18.
The 22-year-old sat behind the Blues dugout as Chelsea won 3-0 against their German visitors, with Mourinho initially saying only that he had missed an important training session - and not necessarily through any sort of injury.
After the game, Mourinho again tried to brush off questions about Hazard and said only that he would return at the weekend: "On Saturday (against West Brom), he will be with the team. He's a player who is a talent. On Saturday, he will be on the bench or playing."
However, in the press conference he finally confirmed why he had decided to leave Hazard out against Schalke.
After praising Willian's impact, the Blues boss said of Hazard: "I don't want to lie. He's not injured. He forgot the time.
"Let's end the story. He's a kid, kids make mistakes and fathers they have to be clever in the way they educate their sons.
"He didn't play, he wanted to play. He's sad because he wanted to play."
Mourinho insisted again the former Lille star would return to the squad for the weekend's visit of West Brom in the Premier League.
"We won without him and Saturday, he's back. End of story," he added.
Mourinho was pleased with Chelsea's display against Schalke after claiming he had made "11 mistakes" following the weekend defeat at St James' Park.
"It was good. The team was stable and kept possession," he said.
"After the first goal, we played like we want to play. Everyone worked hard, especially the wingers.
"When we recovered the ball, we were always aggressive. That was important for us."
Eto'o extolled
Mourinho was full of praise for two-goal Samuel Eto'o, who notched his first Champions League goals for Chelsea either side of half-time.
"My favourite players are the players that win matches for me, not the ones that lose matches for me," said Mourinho.
"Samuel worked with me in the best season of my career. We won everything. So he's in a good position."
Mourinho doubted whether Eto'o's spell in Russia with Anzhi Makhachkala benefited the striker, adding: "He was for two years playing without big motivations and when you play without big motivations, you train without big motivations and you lose condition, and you lose sharpness, and you lose even appetite.
"It was not a surprise for me that he arrived here not in the best conditions after two years in Anzhi.
"Now step by step he is going. He is 32 but he's a fit, slim guy.
"He's not a heavy body. He's intelligent, of course, and I think goals give confidence."
Eto'o was standing in for the injured Fernando Torres, who had a scan on an adductor muscle injury on Wednesday and faces up to three weeks out.
"We hope that he's back after the national teams, but of course no chance for this weekend," Mourinho said.
Sky Sports expert Wilkins is tipping Chelsea to go far this season - if their forwards can find the net regularly.
However, the former England midfielder slammed Hildebrand for blasting his clearance straight into Eto'o for the opener.
"Chelsea finished this game really well," said Wilkins.
"That was a good performance in the second half and they took control of the game.
"Chelsea were poor in the first ten minutes especially but Hildebrand, being so experienced, shouldn't give up a goal of this manner.
"Full credit to Eto'o because he does really well but that was school boy error-ish and should never happen at the level we're watching.
"It's fantastic the way it's coming together for Chelsea, though. If the three forwards can start scoring in abundance there's no reason Chelsea can't go a long, long way."