Premier League: West Brom boss Steve Clarke admits Jose Mourinho changed him
West Brom boss Steve Clarke has expressed gratitude to former mentor Jose Mourinho ahead of their meeting on Saturday.
Last Updated: 09/11/13 2:13pm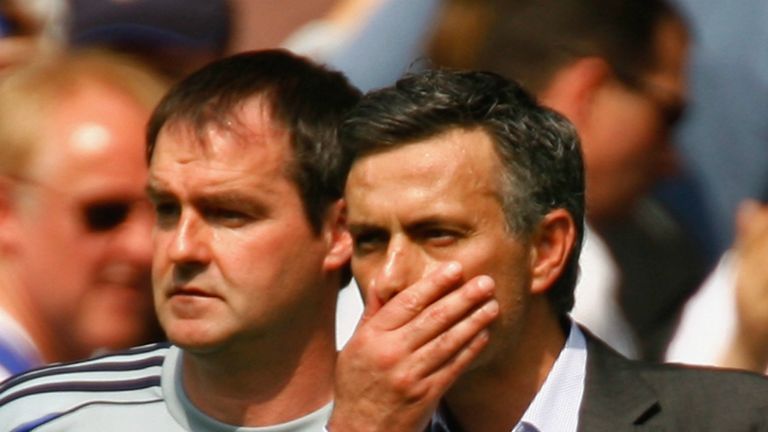 The Baggies travel to Stamford Bridge to face Chelsea this weekend and Clarke admits his time under Mourinho completely transformed him as a coach.
Clarke was promoted to be Mourinho's assistant when the Portuguese manager first joined Chelsea in 2004 and went on to be a part of the coaching team which yielded two Premier League titles, an FA Cup and two League Cups over the course of three seasons.
However, at the time of Mourinho's arrival, Clarke was in charge of the club's youth system and admits his future remained uncertain.
"I didn't know what to expect when I got a call to meet him," he told The Sun. "I had great doubts about my future.
"When you've got a meeting with a new manager, there are two possibilities - you come out keeping your job, or you are unemployed.
"I really didn't know if he wanted to keep me or get rid of me. Fortunately, I stayed and it's just as well. They were memorable years for me.
"The greatest compliment I can give Jose is to say in the time we worked together I changed completely."
Following his departure from Chelsea in 2008, Clarke went on to become first team coach at West Ham United and Liverpool before taking on the helm at The Hawthorns, but the Scot insists nobody taught him more than Mourinho.
Tactical
"I learned more with him than with all the other coaches put together who I'd worked with," he added.
"There were a lot of differences between Jose Mourinho and Claudio Ranieri, the previous manager, who had more 'Italian' methods - that is, the tactical part of training was separate from the physical part.
"When Jose arrived, the two elements were combined and the players responded well. Mourinho put the ball into all the exercises and the players adored that.
"'Intensity' was the key word for work. He made them understand that all the sessions were important, that each and every exercise was important.
"He brought intensity to the activity of training and even to the club itself. For him, training is serious and totally professional. He's extremely demanding but he's there to help you if you have a problem. You know he'll be on your side."
Clarke admitted he was heavy hearted parting company with Mourinho but insists the pair remain close and whatever the outcome on Saturday, their relationship will stand strong.
"The day I took leave of him was hard," he said. "What is most certain when you start a job as coach or manager is that one day the mission will come to an end.
"But, in the case of Jose, it seems to me his departure from Chelsea happened too soon. Everyone felt that.
"Fortunately, I developed a good relationship with him. We still talk, not every day, but regularly, be it about certain games, certain players or our families.
"That's why I say to Jose that he should continue his good work and I thank him for the help he's given me."