World Cup: Chelsea's Gary Cahill insists he is good enough for England
England defender Gary Cahill admits it makes him laugh when people say he is not good enough to represent his country.
Last Updated: 14/11/13 12:15pm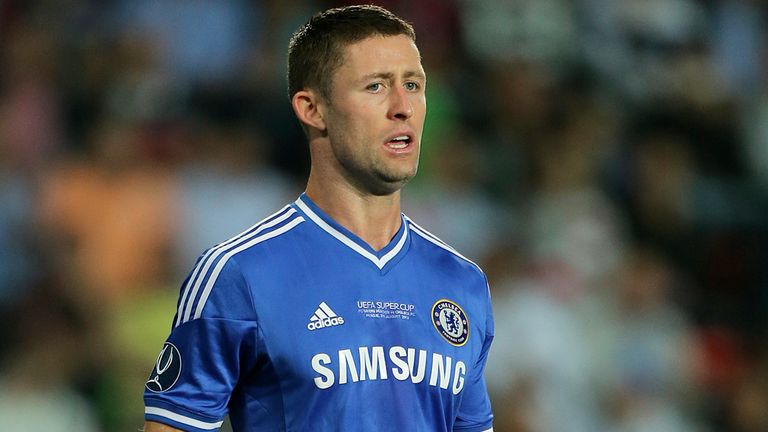 The Chelsea centre-back has started the last six England games with Phil Jagielka at the heart of defence, including the crucial four final World Cup qualifiers.
Despite helping Roy Hodgson's side reach next summer's tournament in Brazil, there are some who still question whether the 27-year-old deserves his place.
But the former Aston Villa and Bolton defender - who has won the UEFA Champions League and Europa League with the Blues since joining in January 2012 - is unfazed by his doubters.
The 20-cap defender told the London Evening Standard: "I like to think I'm established, but you've always got people who doubt you.
"I'm sure they look at the fact I was at Aston Villa and Bolton before Chelsea and still think: 'Is he up to it? He's not been at Chelsea for 10 years'. I'm sure they do, 100 per cent, and I think that's wrong.
"I must have done something right for Chelsea to want to sign me in the first place, but because I wasn't at Barcelona or Manchester United as a kid, it's gone against me somehow.
Laugh
"It makes me laugh sometimes when people say someone, not just me, is not good enough. It's as if they're suggesting these teams or the England staff just pick up the paper and say: 'Oh we'll just take him' and they haven't sent 10 scouts to 10 different games to watch them first. It's not done overnight, the signing or England selection, There is a lot of thought gone into it.
"I feel that having played in some big games for Chelsea, two major European finals, it really helps me when I face the same situation with England and I can bring that experience to the team.
"But the only people I want to prove things to is my manager at Chelsea, Jose Mourinho, and Roy Hodgson with England. I need to show them that I'm at the level they can rely on to perform. As long as I do that, I'm good enough."
Some England fans still talk about Cahill's Chelsea team-mate John Terry, as well as another retiree Rio Ferdinand, as possible Three Lions' players.
Cahill added: "I understand why John and Rio are still talked about. We had two fantastic players playing there, two big stars at the heart of the defence. When such players step down, others have to come in to fill the gap, but that happens over time.
"The more and more I've played with Phil, we've had a few clean sheets and the partnership is working a lot better. We've had a run of games together now and we get on off the pitch too. I think we should be given time. Will we get that? Probably not. I have to be realistic about it.
"As for John, I have learned a lot from him and I'm fortunate to have played a lot of games with him at Chelsea. This year he has started really well and I will always listen to him whenever he's got some advice.
"I'm sure he will go on for the next few years playing at this level. Of course I want to be like him. He's still playing at the highest level at 32. I'm 27, so that's where I want to be."