Premier League: Ashley Cole not being left out of Chelsea team for form reasons
Jose Mourinho says nothing sinister should be read into Ashley Cole's recent absence from the Chelsea team.
Last Updated: 23/11/13 11:29am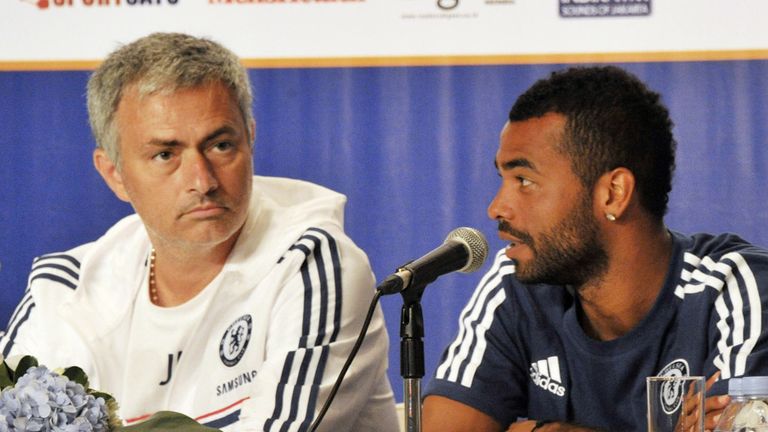 The England left-back is short of full fitness because of a niggling rib problem which forced him out of England's friendly with Germany on Tuesday earlier than had been anticipated.
Cesar Azpilicueta has been filling in for Cole on his 'wrong' flank and Mourinho rejected claims he was sending the 33-year-old a message of any kind by leaving him on the sidelines.
The Spaniard is likely to again maraud up and down the left-flank against West Ham on Saturday with natural left-back Ryan Bertrand appearing to be out of Mourinho's plans.
"Ashley is a top professional," Mourinho said. "He just needs time to recover 100% and put himself at the top of his game and to fight to have his position.
"He's not the kind of personality you need to leave on the bench to send him a message to him to make him realise that he has to give more. No way.
"I don't have a dilemma. I play Azpilicueta because he's stronger at this moment. He's physically at the top of his game. He's strong.
"(Cole) is not injured. He feels pain. He has not a broken rib any more. He is in condition to play football.
"He has a little bit of pain. It's a limitation. Can he sprint 100%? Maybe not. Can he jump 100%? Maybe not. But he's not injured.
"I was speaking a few weeks ago to a top tennis player and he told me it's very rare he plays a game 100%.
"He always has something: one day a finger, another day the back, another the ankle. He's almost never feeling absolutely top. It's the same for football players. He (Cole) has pain at this moment.
"He coped with it at a certain level. He's ready to go and to play. But he has a little limitation."